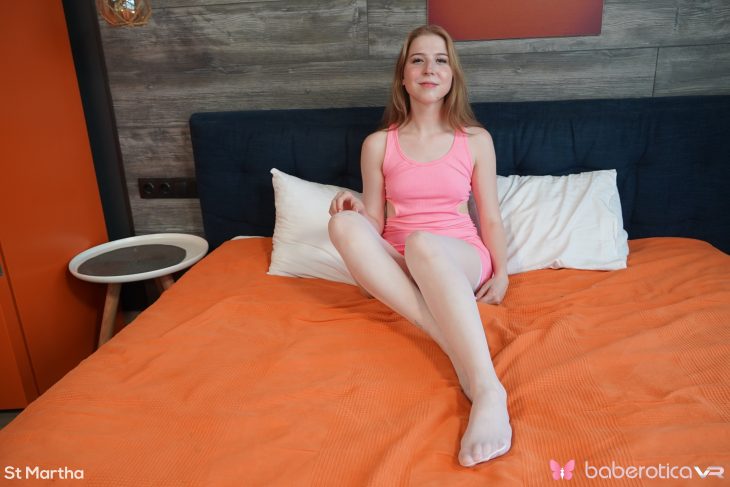 Week In Sex Tech – VR Porn Changed My Life, 3D Scan Pornstar VR Game, Tumblr CEO Says Internet Is Anti-Porn, St Martha Returns
Redditor Explains How VR Porn Changed His Life For The Better
A redditor explains how VR porn changed his life for the better. After describing himself as a typical case of so-called 'porn addiction', he goes on to detail the changes for the better he experienced after buying a Quest 2.
I recently got myself a Quest 2 and after reading some recommendations, a handy, and a subscription to three VR porn pay sites .

All I can say is things have been great. It feels like I'm having real sex, I don't have to spend hours viewing different parts of different scenes, the orgasms are much better (thanks Handy!), I can orgasm to the same VR porn video most of the time (I repeat those that have Handy scripts).

The biggest merit though, is that most of the problems I had with 2D porn seem to be gone. I concentrate perfectly the next day (usually use it the night before), I no longer feel fatigued or sick after climax and can now do this everyday (which is now the problem 😅), I'm no longer sexually frustrated, have post-nut clarity all the time and surprisingly got a massive boost to my self-esteem. Finally, I don't think about or recollect the porn during the day so no random boners. I honestly couldn't recommend a better use of $500 to any young single man.
A German study in 2020 found that VR porn was indeed felt to be more intimate than regular porn, and associated with triggering the 'love hormone' oxytocin.
Fifty healthy male participants watched two pornographic films on consecutive days in the laboratory, randomly one in VR and one traditional two-dimensional (2D) film. The perception of 2D and VR pornography was assessed using several self-report measures. Furthermore, the role of the social neuropeptide oxytocin in facilitating intimacy and interaction was studied. In the VR condition, participants felt more desired, more flirted with, more looked into the eyes. They were also more likely to feel connected with the actors and more likely to feel the urge to interact with them. Interestingly, saliva levels of oxytocin were related to the perceived eye-contact with the virtual persons indicating a role for the social neuropeptide in the perception of increased intimacy and interaction in VR. Thus, VR pornography seems to be a powerful tool to elicit the illusion of intimate sexual experiences.
However, I do have doubts as to whether VR porn is, in its present state, more emotionally satisfying than regular porn. In fact, I believe as VR porn becomes more convincing, viewers may experience what I call an 'unhappy valley' effect, which is a more emotional variant of the visceral disgust felt in the 'uncanny valley'. In both cases, a response triggered by something that is very close to being real, but still jarringly felt to be not real.
3D Scanned Pornstars For Patreon Project VR Game
A new VR game for the Meta Quest featured avatars created from 3D scanned pornstars including Kyler Quinn. What's interesting about this is that it's not a top studio like Naughty America or Badoink that scanned the actresses, it was one guy doing it all himself for his own Patreon Project.
(I) Paid for the models to come to a studio in LA. A scanning rig with 150 DSLRs was used.
You can support the VR game on Patreon at : https://www.patreon.com/virtualkyler
Tumblr CEO: 'Credit Card Companies Are Anti-Porn'
The CEO of the company that owns Tumbler has made some surprisingly forthright statements about the anti-porn environment that exists online today.
NEW YORK — The CEO of Automattic, the company that owns Tumblr, said it is impossible for the internet to be "porn-friendly" currently because, among other reasons, "credit card companies are anti-porn."

Matt Mullenweg discussed the current status of adult content in a blog post on Wednesday. The statements were first reported by computer news publication PCMag.

Automattic — also the owner of popular blogging software WordPress — acquired a failing Tumblr from Verizon in 2019, after the platform's numbers crumbled following its deletion of all adult content.

"The casually porn-friendly era of the early internet is currently impossible," Mullenweg wrote, unequivocally adding his assessment that "credit card companies are anti-porn."
https://www.xbiz.com/news/269141/tumblr-ceo-credit-card-companies-are-anti-porn
Will the current climate improve, or is it destined to get even worse? A lot depends on the adult metaverse, and how it shapes sex and dating. Many sex tech writers predict that 'virtual sex' might even replace offline sex for most people in the not too distant future. In such a world, in which we are all bonking each other as photorealistic avatars in virtual worlds with full tactile possibilities, the boundary between porn and life will finally have broken down completely.
St Martha Returns To VR Porn
One of the most beautiful girls to make her debut in VR porn in 2021 was a Russian girl named 'St. Martha'. Well after just several videos for the Virtual Taboo studio, she was nowhere to be seen for a year. But she's back, or at least she's appeared in a new solo girl VR masturbation video for BaberoticaVR.