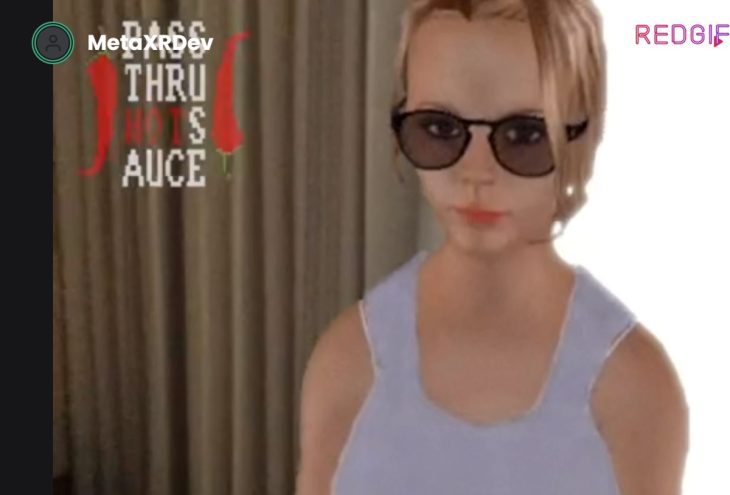 The Week In Sex Tech – Meta Quest Pro AR Porn, Pico 4 Launches, R18 Closing, Sex Robots Will Replace Humans
Meta Quest Pro AR Porn Game Demoed
A redditor has posted what might be the first AR mixed reality porn for the Oculus Quest Pro. The short demo filmed from inside the headset sees a number of animated cgi models performing sex acts in the viewer's home. The girls, although crude, are accurately anchored to various surfaces, as well as scaled realistically. The models can be moved about and placed on different surfaces via the Quest Pro controllers. You can take a look at the NSFW demo here.
The potential for AR porn on the coming generation of VR headsets is clearly huge, and this is why Naughty America were recently searching for photographers to promote their RealGirlsNow mixed reality scenes. The Pico 4 also has high resolution color passthrough, and next year should see the launch at last of Apples VR/AR headset. HD color passthrough is also likely to be a feature of the Quest 3 when it is launched later next year.
You can purchase the AR game detailed above now from itch.io for just $2.99 (it plays on the Quest 2).
Pico 4 Launches But Not In The USA
ByteDance officially revealed their exciting new Pico 4 headset, which is expected to finally provide some real competition to Meta in the VR headset market. Unfortunately, there are no immediate plans to sell the headset in North America, although it will be available to buy in the UK, European, and Japanese and South Korean markets from next month. The cheapest (128G storage) model will actually be cheaper than the Quest 2 is now (since its recent price hike). Like the forthcoming Meta Quest Pro, the Pico 4 has high-resolution color passthrough. No doubt there will be some interesting Japanese AR porn games being developed for it soon, especially in the light of the current troubles facing the JAV industry.
Japanese VR Porn Hub R18 Closes
The primary gateway for English language speakers to access Japanese VR porn is closing early next year. R18 has been beset by a tsunami of problems affecting both the global adult industry and in particular that of Japan. The war on porn has seen religious crusaders succesfully pressure Mastercard and VISA to enforce strict regulations on what is acceptable and not-acceptable porn. With literally tens of thousands of JAV videos in its archives, R18 has struggled to meet these compliance requirments. On top of that, new laws introduced in Japan to regulate the adult industry there have almost crippled the production of new movies.
Notice of R18.com Closure

R18.com will stop selling content from October 24, 2022. From this date, users will have access to their already purchased content only.

A few months later, from January 31, 2023 the site will be completely closed and accessing purchased content will not be possible. Note that it is possible that the website may close before the due date due to unexpected reasons.
I'm a fan of Japanese VR porn, and find that the creativity of the Japanese studios is on another level to that of their Western counterparts. Although I'm not particulary attracted to Asian girls, the absence of tattoos and their often superior and natural acting, makes them a refreshing alternative in VR. The one positive that might emerge from this is that all that creativity might be channeled into the forthcoming CGI VR and AR porn revolution.
YouTube Robot Documentary Claims Sex Robots Will Replace Humans
The above is actually one of the best sex robot documentaries I've watched on YouTube, with a fascinating history of sex dolls, and how they are evolving into sex robots (but not there yet). The claim that sex robots will replace humans might sound outlandish, but what the narrator is actually referring to is a claim that by 2050, humans will largely be having sex with each other via sex robots and virtual reality.