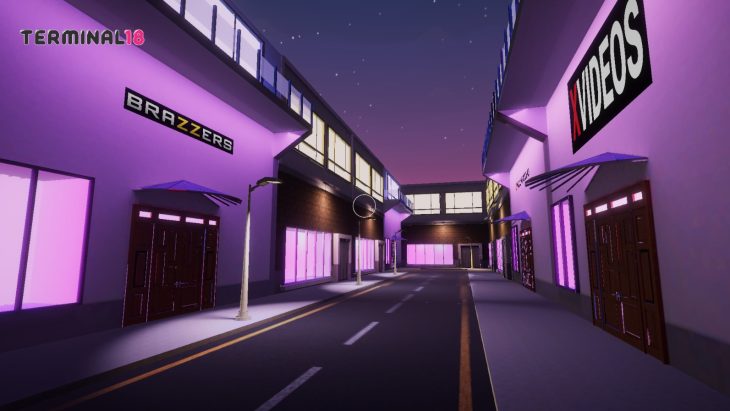 Week In Sex Tech – Terminal18 Adult Metaverse, Quest 2 'Adult Content', NSFW Growth On Steam, UK Deepfake Porn Law Closer
Terminal18 Wants To Be The Metaverse For The Adult Industry
The metaverse has been touted as a potential trillion dollar money making opportunity within just a few years time. Well if that happens, you can be sure that whatever becomes the adult version will be worth at least a few billion. Given this, it's a little surprising to me that so few companies, porn sites, and startups, are attempting to plant their virtual flag first, and establish themselves ahead of any competition. Whilst rivalry between tech giants, such as Meta and Apple, may ensure that the Metaverse itself remains decentralized, the very fact that both they and others are unlikely to ever allow hardcore adult content on their platforms, does leave the door open for some entity to create and develop a dominant x-rated version of the metaverse. At least perhaps, a PornHub style dominance.
Well now a team of three ambitious young French entrepreneurs has begun to stake a claim for control of the adult metaverse. Calling their project 'Terminal18', they intend to establish a metaverse for the adult industry through the creation of a virtual city where 'brands, users, and creators' can buy land, upon which they can then set up their adult related shop, business, or activity. The team have laid out a detailed road map towards their final Terminal18 goal, with the first concrete realization of their project expected to be a mobile app in Q1 of next year.
It's an exciting concept, and the potential prize if they pull it off is almost ludicrously large. I'll be asking the team some questions about Terminal18 soon, and will certainly be writing a lot more about the project in the weeks and months ahead. For now, you can visit their site at Terminal18.org, and watch an explanatory video (in French).
'Megan Three Stallion' Is 'Closest To Adult Content On Quest Lab So Far'
Perhaps Mark Zuckerberg does want a slice of the potential multi-billion dollar adult Metaverse after all. Earlier this year, Meta allowed creators in Horizon Worlds to use 18+ tags. And now an app has appeared on the Meta App Lab that has been described by RoadToVR.com as 'the closest to adult content..so far'.
The app was developed by AmazeVR, which worked directly with Megan Thee Stallion to capture high quality 3D footage of her performances with a moving camera, making it feel like you're floating right next to her as she sings and dances. The live action capture is integrated with a pre-rendered CG environment, and the app smartly adds some minimal real-time elements into the scene to blur the line between pre-rendered and real-time. All in all it's a very well executed and on-brand take on a VR concert experience (though sadly missing the key ability to watch with friends).

The excellent capture quality actually made it ever so slightly unnerving to be that close to the artist, who in some of the performances is essentially giving you a personal strip tease. And while functionally there's no nudity, the performance definitely couldn't be called 'safe for work'.

That in itself was interesting; Megan Thee Stallion VR Concert is only available on App Lab at this point, it is to my knowledge the most 'adult' piece of content Meta has yet allowed onto App Lab. Although App Lab is an official but unlisted 'shadow store' for Quest content, developers still need to abide by Meta's content guidelines.

According to Meta's content guidelines for Quest apps, full on erotic content is forbidden, but "when it comes to mature content (for instance, violence, alcohol/drugs, nudity, or adult language), we are likely to accept content that generally falls within the threshold of an R-rating for a movie," the company clarifies.

This appears to be one of the clearest examples yet of an app toeing that line—thus, the Megan Thee Stallion VR Concert sets an important precedent.
Read the entire article at RoadToVR
NSFW Games Growing On Steam
Adult content is also becoming more acceptable on Steam, as writer Ana Valens describes at TheMarySue.com. After Steam reversed their restrictive policy on adult video games in 2018, growth in NSFW games has risen almost exponentially.
In 2018, 93 games were released that fit the "NSFW" tag. That number jumped to 180 in 2019, followed by 261 in 2020. This year, a whopping 523 games tagged "NSFW" have already been released, including the official English language port for Illusion's immensely popular sex simulator Honey Select 2: Libido Deluxe, along with two adult games The Mary Sue has recently covered the mind-boggling adult 3D chess game Sex Chess, and Vampire Survivors clone, hentai romp Sexy Mystic Survivors.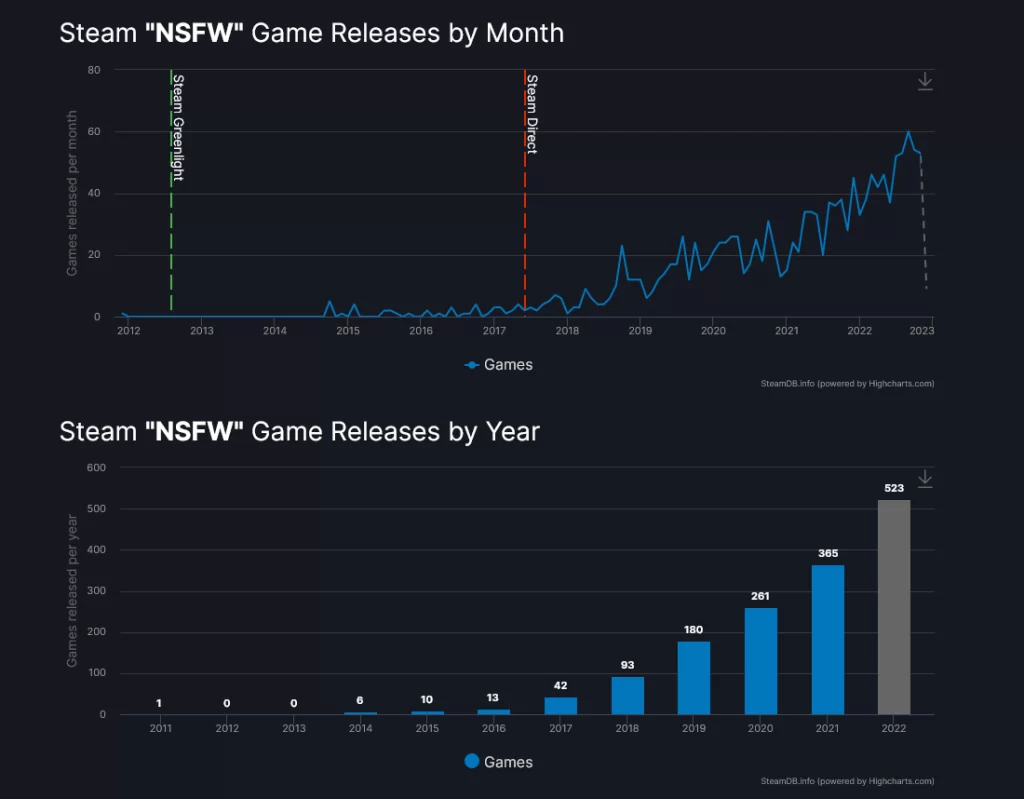 Czech Researchers Claim Giving Paedophiles Child Sex Robots May Prevent Abuse
A team of Czech researchers have published the controversial findings of a study they conducted into paedophiles and sex robots. They concluded that hild sex robots may provide a tool in therapeutic treament of paedophiles, presumably as a safe outlet for their harmful predilections, and prevent the real abuse of children. Predictably, the researchers have been met with a storm of outrage.
The team, from Czechia's National Institute of Mental Health, presented their highly contentious idea at a leading sexual health conference in Belgium.

They explored the idea of using sex robots among people with 'paraphilic interests in minors'.

Paraphilic is a broad term, meaning having an ongoing abnormal sexual interest.

It includes paedophiles, voyeurs, flashers, and those who engage in violent sexual fantasy.

Two such groups were recruited online, one cohort of 48 men sexually attracted to children, another 57 with a sexual interest in 'non-consent/violence'.

They were asked to respond to a survey on sex robot use, with the results compared to a control group of just over 800 non-paraphilic men.

The team said: 'We expected both target groups to express a greater desire for sex robot experience.'

They added this was because 'sex robots would enable them to express paraphilic sexuality within legal limitations'.

Analysis revealed 18 per cent of the control group wanted to have sex with a robot.

But the rate doubled among paedophile respondents (37.5 per cent).

Desire was also higher in the participants 'interested in non-consent/violence' (26 per cent).

Presenting her team's findings, Alena Mareckov, a psychology student at Charles University in Prague, said: 'This indicates that individuals with paraphilic interest in minors are slightly more open to the idea of sex robots experience.

'Studies exploring preferred features of sex robots and interest in their use in therapy are needed.'
The original research paper can be viewed here.
The idea of using child sex dolls as therapy for paedophile sex offenders has been floated in the past, also triggering widespread outrage.
UK Looks To Finally Make Deepfake Porn Illegal
The UK has been talking about banning Deepfake porn for several years, but recently announced changes to the forthcoming 'Online Safety Bill' that would make the sharing of non-consensual deepfake porn images illegal.
Still, some campaigners feel the proposed law does not go far enough.
"The problem we have is that this is proposed law – it's not creating the law here and now," says Isaacs. "Announcing legislation and then tabling it for another couple of years – and then [potentially] creating a law that has so many gaping holes in it – is not going to work long-term. When it comes to image-based sexual abuse, it evolves at such a rate that we're never going to catch up if we don't reform the system we have. It's great that we're moving four steps forward, but we need about 20,000 steps to keep up to where the tech is at right now."
I sympathise with the sentiment, and have expressed the view myself in the past. The law will increasingly struggle to keep up with the ever increasing pace of sex and porn tech. But perhaps the solution is not to premeptively ban everything with a legal sledgehammer, as those campaigners presumably want?
At least there are mainstream tech sites that are attempting to summarize the explosive developments in AI porn tech : https://www.sociobits.org/2022/12/ai-transforming-adult-porn-industry/11011
New AI text-to-porn generators
In 2022, we saw many AI-generated text-to-image generators shining at the headlines. Open AI's DALL-E, Stability AI's Stable Diffusion, and many more joined this list.

This also allowed people to come up with AI porn generators. PornPen is a text-to-porn generator that allows you to generate pornographic images of women by selecting different tags. A discord-community Unstable Diffusion, that offers monthly membership options consists of porn enthusiasts who are creating a more "reasonable community" to work with the wider AI community.
The BBC On The Rise Of Entirely Virtual K-Pop Bands
The virtual faces of Eternity's members were created by deep learning tech company Pulse9. Park Jieun is the organisation's CEO.

Initially the company generated 101 fantasy faces, dividing them into four categories according to their charms: cute, sexy, innocent and intelligent.

Fans were asked to vote on their favourites. In-house designers then set to work animating the winning characters according to the preferences of the fans.

For live chats, videos and online fan meets, the avatar faces can be projected onto anonymous singers, actors and dancers, contracted in by Pulse9.

The technology acts like a deepfake filter, bringing the characters to life.

"Virtual characters can be perfect, but they can also be more human than humans," Park Jieun tells BBC 100 Women.