This Week In Sex Tech – Smell VR, Apple XR Headset, Moscow VR Sex Club
VR Bangers Launch 'Smell VR' Headset Attachment
One of the leading VR porn sites – VR Bangers – has launched a VR headset attachment that lets you insert one of four different aromas to match the kind of action you are viewing. For example, when experiencing virtual sex with an MILF, you have available 'MILF Sensations' to take your immersion to the next level. If teen VR porn is more your thing, then VR Bangers have that covered too. 'Teenage Dream' will be the sweet and fresh smelling aroma you will want to be inhaling. The other two sexy smells are 'Squirt Delight' and 'Happy Ending'. Each is apparently a unique combination of hundreds of different scents, brewed by the 'best perfumers and olfactologists'.
Some VR porn fans over at Reddit thought that this might be an early April's Fools joke, but the fact that the page remains up suggests it's not. A marketing trick on the part of CEO Daniel Abramovich might be closer to the truth, especially as the VR Bangers page offering the product is claiming that the Smell VR attachment is 'sold out'. It also appears to only work with the propriety VR Bangers headset (and possibly cardboard headsets). Furthermore, it has to be ordered as a package with the headset.
Daniel Abramovich elaborated on the Smell VR product in an interview with VICE Magazine.
Daniel Abramovich, CEO and co-founder of VR Bangers, had some answers for me. "Scents are created with a combination of perfumes and real smells of women. As women age, they have different smells of their bodies, hair, vagina, sweat, etc.," he told me in an email. "Each scent has its own unique smell. For example, 'Happy Ending' has a real vagina smell, 'MILF Sensation' has a heavier perfume smell, 'Squirt Delight' has a slight scent of a woman squirt and 'Teenage Dream' has a natural hair smell with a pinch of sweet perfume. We've also talked to our most popular pornstars to determine what perfumes, shampoos or any other natural body product they use to create their scents."

The headset/scent dispensing device combo looks to be a package deal, and not something you can combine with an Oculus or Vive you may already own. Abramovich said it would work with cardboard VR goggles, however. According to VR Bangers' site, it's "sold out" at the time of writing, which included the 500 initially-released units. It's going for a retail price of $299, which includes four smells.
This is not the first time something like this has been tried with VR porn, or at least announced. Webcam company CamSoda have been guilty of a number of marketing exercises promising everything from hologaphic webcam girls to 'OhRoma' – a headset attachment very like Smell VR. Whether or not this is a similar marketing stunt remains to be seen. There is no doubt that tech to enable smell in virtual reality is being worked upon. One New York company even hopes to enable the digital transmission of smell online.
"Let's say you are watching a movie and then you see a scene of [a] car chase and you have the smell of smoke," he said. "The problem is when you cut to the next scene, you don't want to smell smoke anymore. If we can electrify the smells, in technical terms, we can reduce the time constant, we can reduce the time to stop the smell and change to a different smell."
Apple XR Headset and Snapchat AR Glasses Revealed Soon?
Rumors continue to abound as to the long awaited entry into the XR headset market by tech giant Apple. Their purported 'mixed reality headset' that is rumored to combine both VR and AR functionality, as well as costing up to $3,000 and as light as an iPhone, is now expected by one tech insider to reveal the device in the next few months. Whenever Apple does finally release their first product, it will of course revolutionize both the VR and AR porn industry, even if (according to earlier rumors) they only expect to sell 100,000 in the first year.
Sometime in the next several months, the company is poised to announce a mixed reality headset, its first major new device since 2015. If possible, Apple won't want to make such a critical announcement at an online event. It wants employees, the media, its partners and developers in the room.

Similarly, Apple is working faster than most tech companies to get its key engineering staff back in the office. Working from home has some benefits, but a car, the next iPhone, future smart speakers and new earbuds can't be designed, engineered and tested from a kitchen table.
Meanwhile, Snapchat are also rumored to be bringing an XR device to market soon – a pair of glasses with true augmented reality features.
Snap, the company behind Snapchat, is planning to continue its push into hardware devices with a new pair of augmented-reality glasses and a drone, according to a report by The Information. The Spectacles will reportedly include displays so the wearer can see the AR effects without having to use their phone — a feature that was notably missing from the all the Spectacles that came before.

One of The Information's sources says that the new Spectacles will be meant for developers and creators, rather than consumers — though you could probably argue that, at $380, the Spectacles 3 are already mostly limited to that market as well. As the article points out, though, the intention is likely to have the developers make lenses and experiences that consumers will use at some point in the future.
Russian Adult VR Club Opens In Moscow
Well, after watching the YouTube video and studying their website, I'm still not sure exactly what is on offer here, but here is my best guess. An 'adult VR club' has opened in Moscow, as well as seemingly a number of other cities in Russia. You can visit these clubs and rent a VR headset to watch VR porn in. It does not appear to be the company's own content that you experience – the website doesn't specify which VR porn site's videos you do get to enjoy, or whether they have those site's permission (so far as I can tell). The headsets can also be delivered to your home or your hotel room and similarly rented. And it doesn't come cheap, although even this is unclear as the price is advertised in 'p' (999p for 1/2 an hour).
Not sure what the point of this is at all. When I first saw it, I assumed the idea was that you would get serviced by a sex worker while enjoying VR porn. But no, it would appear you just go there to rent a VR headset and some VR porn to jerk off in a cubicle or such. However, the lady in the video does seemingly encourage couples to come to the club to have sex while one or both has a headset on.
VR Porn Videos I've Been Researching This Week (18+)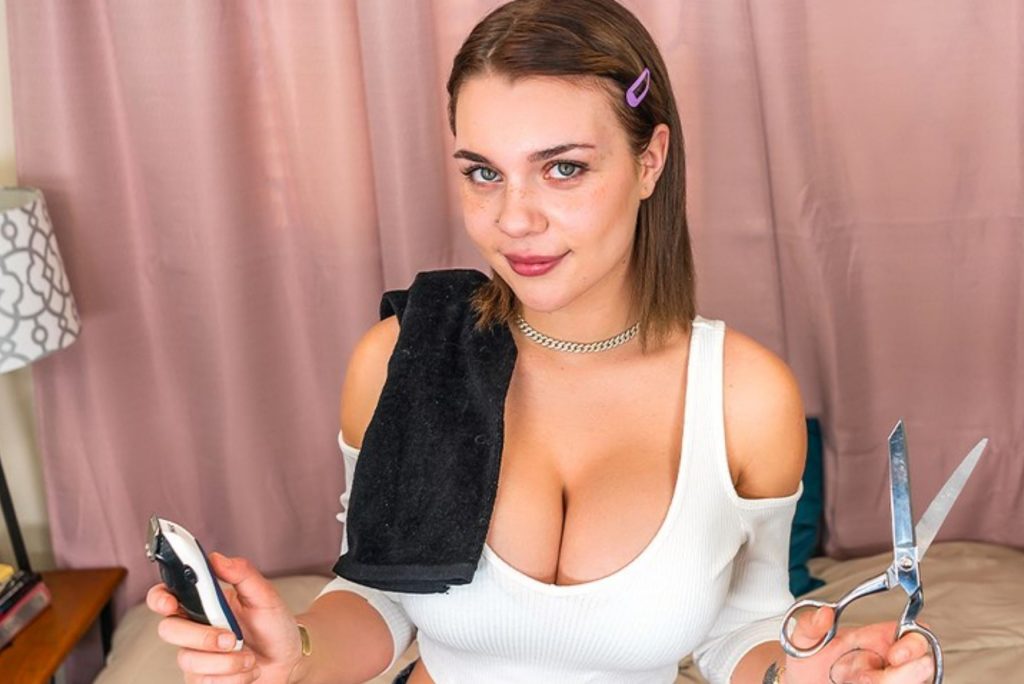 'Tits And A Trim' (Gabbie Carter) – WankzVR
A natural busty young American actress gives you a haircut during lockdown, which of course quickly turns into a wild sex session.
'Self-Isolation Can Be Fun' (Sheryl X) – Virtual Taboo
One of the best new talents that Virtual Taboo have unearthed for quite some time, this is a solo VR video of 'Sheryl X' masturbating.
For trailers and more of the best VR porn videos of the week visit Immersive Porn