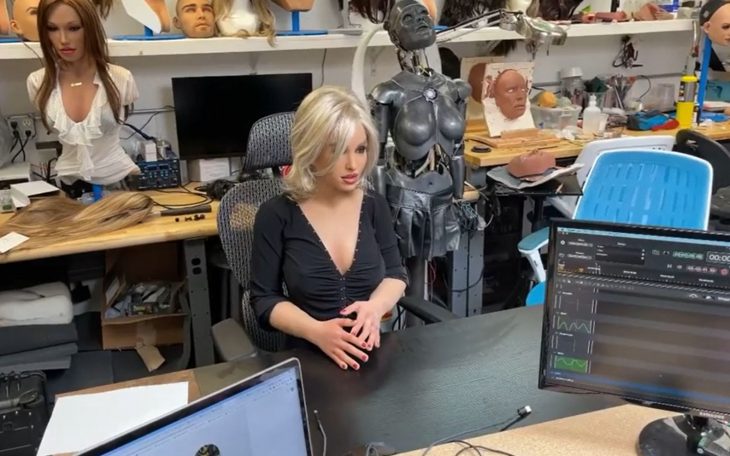 This Week In Sex Tech – The Future Of Sex Tech, RealDoll Sex Robot Can Move, Naughty America 3D Creator
The Medical Futurist On The Future Of Sex Tech
An interesting and generally positive take on the future of sex tech from a futurist who focuses in most of his videos on medical advances. His only caveat on future sex tech, and in particular sex robots, is the old argument that it will lead to declining birth rates and possibly the death of humanity. Of course, exactly the same arguments could be made against abortion, the pill, women having careers, feminism etc., but never would – because they would be wrong (and you would get cancelled for making them).
Early in the video, the Medical Futurist refers to a recent resurgence in VR porn sales, quoting a plausible estimate of a 30% growth in revenue for VR porn sites. This appears to come from a claim from one of the leading sites – VR Bangers – to have seen a 30% rise in revenues last summer since the start of the lockdown. It's difficult to say how much that was due to the lockdown, as VR headsets sales received a boost in March, right at the start of the lockdowns, due to the VR exclusive release of the latest Half-Life franchise game – Half-Life: Alyx. What is clear is that the VR headset market has grown massively in the last 6 or so months with the hugely successful launch of the Oculus Quest 2 headset. I would say that VR porn industry revenue has now at least doubled since March of last year, and the future trajectory looks bright indeed. A 'pro edition' of the Oculus Quest 2 is likely to be released later this year, as well as possibly a standalone rival headset from HTC. And next year we will likely not only see the release of the Oculus Quest 3, but also the Playstation VR 2, and even, and perhaps most excitingly of all, a VR headset from Apple. Not to mention that by next year, an augmented reality porn industry might be a very real thing as well.
RealDoll Update: Robot Torso and Arm Movement
Sex robots are inching ever closer to being true androids, as this YouTube update on the progress of the most famous sex robot company – RealDoll/Robotix – shows. The company are clearly advancing with torso and arm movement, although they still seem to be behind Chinese company DS Doll Robotics.
Naughty America Update Their '3D Creator'

Naughty America were one of the first VR porn sites, launching soon after the Oculus Rift was released. Since then, not only have they maintained their place as one of the top sites for VR video porn, but they have pioneered augmented reality porn and the use of 3D avatars in both digital VR and real worlds. Last week they announced an upgrade to their '3D Creator' which allows members to 'create their fantasies and share them with others'. Members can create their own adult VR environments, explore those made by other members, as well as discuss them with other members. Adult social VR is clearly going to become huge at some point, and Naughty America appears to be making a good effort of becoming the prime movers of it. You can take a look at NaughtyAmerica/3D