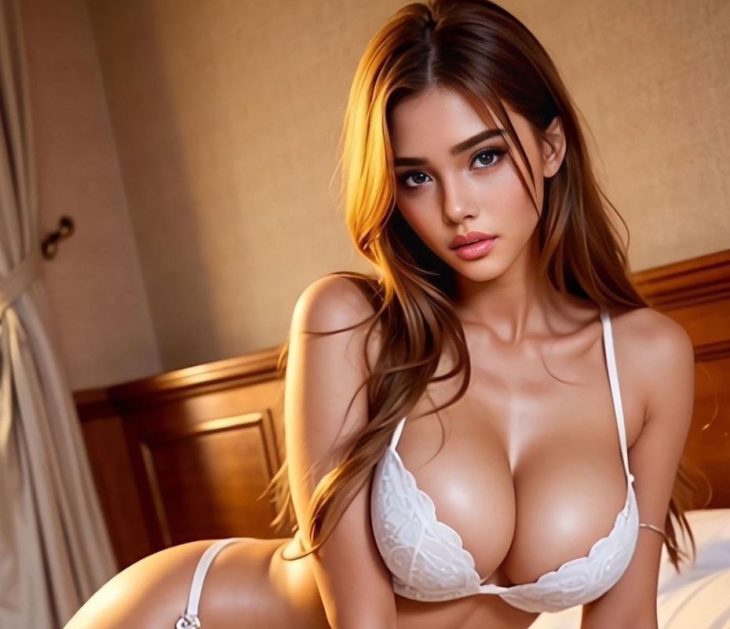 Elon Musk's Ex-Partner Grimes Fears Women Will Be Replaced By AI Girlfriends, Apple 'Spatial Video Porn', Sika Moon, 'Beauty Swipe'
Musk's Ex Fears That AI Girlfriends Will Render Women 'Obsolete'
The former partner of Elon Musk has expressed concerns that women might be made obsolete within five years by AI girlfriends. Grimes was speaking on a discussion panel debating the question – 'Has the sexual revolution failed (women').
According to the "Shinigami Eyes" hitmaker, she feared the growing influence of A.I. girlfriends would negatively affect the future of the female species. "Women could be obsolete in five years," the Canadian singer claimed, adding, "I hope living women still have a chance!"

Her fears also extended to the pornography industry and how the digital world has made it "a lot easier to access" for everyone to access sexual content.
This naturally raises the question – 'is the growing opposition to AI girlfriends simply a matter of women fearing that they will be replaced?' Probably, as popular 'MGTOW' Sandman argues below. Isn't it ironic, that feminism was supposed to be about changing women's role from reproduction machines and sex objects, and yet here we are, in a world where women – led by feminist hysteria – fear that they will be 'replaced' by AI sexbots, while men fear they will be 'replaced' by the AI that can do their job better?
iPhone 15 Pro Will Be Able To Record Spatial Video To Watch In Apple Vision Pro
The iPhone 15 Pro series will get an update later this year letting them capture Spatial Video that you will be able to watch on your Apple Vision Pro headset. Although Apple haven't been exactly clear as to what Spatial Video is, it appears to be some sort of Light Field or volumetric video technology, rather than simple stereoscopic 3D/VR. The kind of VR porn that will be possible with this tech will not be limited to just moving your head as you observe a stereoscopic 3D scene, but offer some form of 6dof, in which you can 'move' around the scene, at least to some extent. Not only could VR porn be taken to another level, it's exciting that the tech is being incorporated into the iPhone, starting with the Pro model, and perhaps cheaper models in future generations. We could be seeing some pretty crazy homemade 'Spatial Video porn' on our Apple headsets eventually.
Read more : https://www.uploadvr.com/iphone-15-pro-spatial-video-vision-pro/
Tinder Style AI Porn Generator Learns Which Kind Of Girls You Prefer
Beauty Swipe is a novel form of AI porn site. Not a porn generator itself, it displays a succession of AI babe pics, and you swipe left or right, aka Tinder and many other dating apps. Only this site doesn't match you with an AI girlfriend, which is a pity I think. It simply analyzes your preferences and displays more pics of the girls you like. But it's a new idea, as applied to AI porn, and it hints at what might be a really good AI girlfriend site/game, perhaps even complete with rejection!
Influencer Sika Moon Clones Herself As AI Influencer And Earns $20K A Month
Berlin beauty Sika Moon is one of a growing list of influencers to create an AI double of herself, with its own Social Media accounts that already have hundreds of thousands of subscribers, as well as an AI chatbot that fans can chat with. The latter apparently is so popular it is earning her $20K a month. Interestingly, her Instagram account features many 'collabs' with purely virtual AI influencers. https://www.instagram.com/sika.moon/
An adult performer has revealed how her virtual clone is now raking in $20,000 (£16,000) a month – earning her more than her real pornographic shots.

Sika Moon, a 28-year-old model from Berlin, used artificial intelligence (AI) to make a copy of herself, which she has been using to engage with thousands of fans online.

'She's a part of me. And I love her!' she told MailOnline. 'My fans know she's like me and there's no agency, chatbot or random nerd chatting.' Like OnlyFans, Fanvue is a site that allows content creators to monetise their images and videos.

Users can view Sika's content and 'chat with her' for $10.99 (£8.82) a month. Subscribers can even request custom-made content, which Sika claims is often surprisingly 'normal' and not 'smutty'.