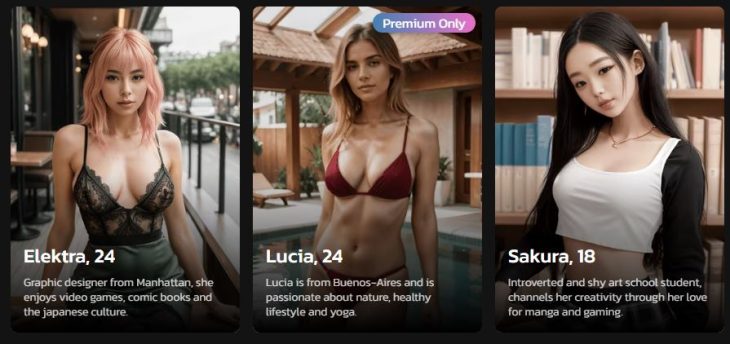 Week In Sex Tech – War On AI Girlfriends Heats Up, Meta Quest 3 Is Launched
War On AI Girlfriends Heats Up
AI girlfriends are barely a thing, and still used by a tiny fraction of the male population, but that hasn't prevented both the Conservative site theHill.com and no less than CNN warning that they are 'ruining an entire generation of men'. In the Hill article, a political science academic and journalist ironically named Liberty Vittert blames them for an epidemic of male loneliness and a consequent decline in the birth rate that threatens America's very future. So AI generated girlfriends that have only been around in their present form for a year or so, is to blame for the demographic decline of America. Nothing to do with feminism, women delaying marriage and child birth for careers, abortion etc. Let's just blame AI girlfriends.
Let's look at the hard numbers. More than 60 percent of young men (ages 18-30) are single, compared to only 30 percent of women the same age. One in five men report not having a single close friend, a number that has quadrupled in the last 30 years. The amount of social engagement with friends dropped by 20 hours per month over the pandemic and is still decreasing.

These young men are lonely, and it is having real consequences. They are choosing AI girlfriends over real women, meaning they don't have relationships with real women, don't marry them and then don't have and raise babies with them. America desperately needs people to have more babies, but all the signs are pointing toward fewer relationships, fewer marriages and fewer babies. There have been 600,000 fewer births in 2023 in the U.S. relative to 15 years ago. The number of children per woman has decreased by more than 50 percent in the last 60 years.
The article and its message was taken up shortly after, in equally melodramatic fashion, by no less than fake news outlet CNN.
A woman needs a man like a fish needs a bicycle, but it seems a man will always need a real woman, at least by law if female political opinion makers get their way.
What the fear mongers and opponents of AI girlfriends don't appear to realize is that AI boyfriends are proving just if not more popular among women. Last week the leading provider of audio erotica for women – Bloom – announced that they were launching a range of racy chatbots based upon some of the popular characters of their sexy stories, carefully distinguishing it from the 'pitfalls' of 'male gaze' driven porn. Audio erotica, and 'erotic fiction' is consumed mainly by women. There is no reason to believe that women will not make up a substantial part of the market for AI sex companions. In that case, it would be hard for lawmakers to ban AI girlfriends and not AI boyfriends, and if they ban both, they will be upsetting a huge number of women.
The Meta Quest 3 Is Officially Launched
The long-awaited successor to the popular Meta Quest 2 (formerly Oculus Quest 2) was announced at last month's Meta Connect event, live by Mark Zuckerberg. The Meta Quest 3 will be shipping from October 10th and is likely to sell millions between now and the end of the holiday period in 3 months time. As well as boosting the rather dormant VR porn market, it will probably see an explosion of interest in mixed reality porn, passthrough porn, and AR porn (the differences between the three can be a bit blurry). This is because it has high-resolution color passthrough with 3D sensors. Zuckerberg himself spent a lot of time at the Connect event promoting the headset as a mixed-reality device. Only one VR porn site – SexLikeReal – currently offers passthrough porn, but that is likely to change soon. And of course, we should see a lot more interest in true AR porn sites such as Naughty America's RealGirlsNow. Most of the early hands-on reviews have been very favorable. Apart from making possible AR and passthrough porn, the headset will be lighter, more comfortable, with better air ventilation, and have higher resolution.
Become a member of subreddit r/ImmersivePorn to stay up-to-date with the latest developments in male sex and porn tech.