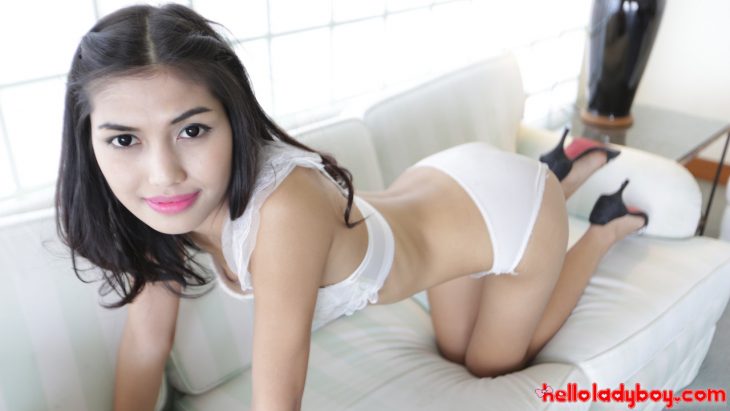 This Week In Sex Tech – Time Specific Tagging On VR Videos, HelloLadyBoy VR, Masturbation Will Replace Sex In The 'Ona Singularity'?
VR Porn Site SexLikeReal To Introduce Intelligent Tagging On Videos
Top VR porn site SexLikeReal have over 30,000 videos in their collection, with over a dozen added every day. They cater for all tastes with videos from a huge number of different studios, and over 3,000 porn actresses. Understandably, they are continuing to seek to improve the ways in which their members can sort through that mass of virtual reality smut. Recently, they tweeked their pornstar search algorithm for more relevant results. Their latest idea is far more exciting. They plan to introduce segment specific results for video tag searches. So for example, if you're looking for cowgirl position VR scenes, you wont simply be given a set of results of videos containing cowgirl scenes. The result will show the specific cowgirl segments of the videos. This is a really good idea, as most VR porn videos are a hotchpotch mix of various sexual positions and acts.
In response to a plea from a VR porn fan on Reddit for more anal sex scenes, a representative of SexLikeReal replied thus :
We are implementing a new concept primarily focusing on tags than the whole videos. The videos will be virtually segmented by its components like intro, BJ, anal, missionary, cow girl, cum shot. Then if you go to Anal you will see anal sections by default from the whole movie. Also anal scenes will show up in suggestions next to the video bringing you straight to the anal part.
HellowLadyboy Releasing More VR Porn Videos
'HelloLadyBoy' is a popular trans porn site produced by the same studio, and filmed very much in the same style, as straight porn site 'Asian Sex Diary'. The latter has recently been releasing VR videos on the SexLikeReal platform, and now HelloLadyBoy – already on SLR since 2 years ago – is releasing more regularly there too. Trans porn is a popular niche in VR, although it isn't greatly catered for at present, with the 8K site VirtualRealTrans being the clear best out of 4 or 5 existing sites/studios.
French Court Rejects Lawsuit Aiming To Block Top Porn Sites Over Age Verification
In a rare setback for the anti-porn lobby groups, a French cout has rejected a bid to have the top porn sites such as PornHub blocked to French Internet users. The failed lawsuit claimed that the sites in question were too accessible to minors.
e-Enfance ("e-Childhood") and La Voix de l'Enfant ("The Voice of the Child") believe that sites such as Pornhub, TuKif, XNXX, xHamster, XVideos, Redtube and YouPorn "make the pornographic content accessible to minors and do not verify the age of those browsing or they merely make them check a box stating they are over 18," their lawyer Laurent Bayon told newspaper Le Figaro early last month, when the lawsuit was announced.

"The court has rejected the claim and the sites will not be blocked," de Montousse told Reuters today.

Today's ruling favored the defendants, top French ISPs Orange, SFR, Bouygues Télécom, Free, Colt Technologies Services and Outre mer Télécomare.
https://www.xbiz.com/news/262197/french-court-rejects-lawsuit-aiming-to-block-top-porn-sites
Japanese Futureologits Predict That Masturbation Will Replace Sex
A Japanese company specializing in forecasting the impact that pleasure devices will have on society, has made the controversial prediction that masturbation will replace sex as the primary means of sexual satisfaction. According to 'FutureOfSex.net', the report claims that there are two main trends that are driving society to that point (which they call 'the Ona Singularity'). Firstly, 'sex between humans is still a heavy physical and psychological burden'. The second is the safety and satisfaction that increasingly varied and sophisticated masturbation toys can provide us.
Looking at these two claimed trends, each of them has a lot of truth to them, in my opinion. Although in specific ares, such as homosexuality or interracial sex, society is becoming increasingly tolerant and taboos lifted, sex itself appears to becoming a more complicated and messy affair, especially in the era of #MeToo. The second trend also seems accurate to an extent. However, although the report does specifically mention virtual reality porn, the 'Ona Singularity' appears to refer to fully indepdendent sex toys providing the pleasure without any input from another human being. If this is indeed the case, then I think it's wrong. While it is true that notably with male sex toys of late, there is an ever growing number that seek to simulate the sexual organs as a pleasure in itself, rather than 'replicate' the feeling of sex, I doubt if the psychology and desire for human sexual contact is itself diminishing. Virtual reality (and augmented reality) and haptic sex toys will make sexual contact ever more easier to obtain, without even having to leave your bedroom. It also has the potential to reduce the 'messiness' of sexual contact, in avoiding the possibilities of STDs, and even allowing anonymous sex. Having said that, it's equally or more likely to trigger still more laws and moral panics that will play into the hands of puritans and bigots. Still, the idea that simply pleasuring oneself with a vibrator will ever become preferable in general to sexual contact seems unlikely to me, at least if you regard virtual sex of at least potentially being 'real' sexual contact.
Unfortunately, the full report only comes in Japanese. I will have a go at putting it through Google Translate, and if I feel it's worthwhile, I may pay for a professional translation into English.