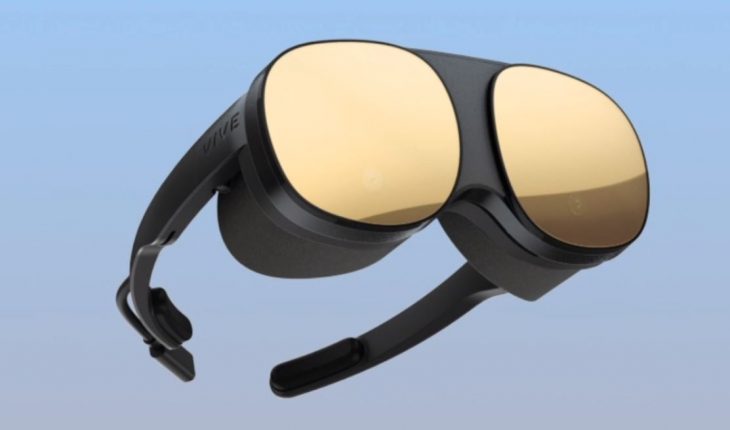 The Week In Sex Tech – Vive Flow VR Porn Headset, Oculus Retinal Display, VR Smokers First VR Smoking Site, Tracey Cox On Virtual Reality Porn
HTC Reveal Vive Flow Standalone Headset – A Good Headset For VR Porn?
To a mostly underwhelming response, HTC revealed the Vive Flow this week as their largely consumer orientated 'standalone' headset (it still needs to be atteched to an external battery). Most critics don't see it as being much of a rival to the much cheaper higher specced Oculus Quest 2, but it could nethertheless have great appeal to thos wanting to watch VR porn in comfort. It weighs in at less than the Oculus Quest 2, resembling a pair of sleek goggles rather than a bulky headset. Equally importantly, it contains an active cooling system designed to prevent your face from getting sweaty while fapping away in VR…ermm I mean from watching Netflix. Although the screen resolution is lower than the Quest 2, it has been noted as being sharp, and will be more than good enough for VR porn movies up to 6K. You can read a slightly longer review of the Vive Flow for VR porn here.
Retina Display Headset Coming From Oculus?
In an apparent attempt to steal whatever thunder the Vive Flow reveal had, Oculus teased VR fans this week with several prototypes of next generations headsets they are working on. One such prototype apparently has a 'retina display', which according to UploadVR :
…a retina resolution refers to the point at which a higher resolution would look no different to a person with 20/20 vision. In other words, Zuckerberg is suggesting that the display used in the headset presents a virtual world just as clearly as how we perceive the real world.
Oculus are strongly expected to release an 'Oculus Quest 2 Pro' in the next 12 months that will likely be aimed at enterprise rather than consumers, although many would likely pay extra for an upgraded Quest 2 with a better screen or a lighter weight, in order to play games or watch VR porn.
VR Smoking Studio Launches On SexLikeReal – Weekly Releases Promised
Smoking girls used to be a very popular fetish in porn, or rather softcore porn and glamour modelling, but perhaps with the bans on smoking in public places and general decline in smoking, it seems to be a niche that has lost a lot of its former appeal. That hasn't prevented a VR porn studio launching at SexLikeReal that will be dedicated to nothing but (clothed) girls smoking for you in virtual reality. The person behind 'VR Smokers' has stated his goal of releasing a new video once a week, although he has realistic concerns that that may not prove financially viable. The studio put out their first video this week.
'Relationships Expert' Tracey Cox Says 'Virtual Reality Porn Will Change Your Sex Life'.
Tracey Cox is a British/Australian author and journalist who has written many popular books for women on sex and relationships. She also appears quite regularly for tabloids such as the Daily Mail as a 'relationships expert'. Not sure how highly we should regard her opinion on the subject, but it is at least noteable for having VR porn discussed in one of the best selling/viewed online newspapers in the world.
What about the ethical issues?

Clients with cash can customise avatars to look exactly how they desire. That might be an avatar that looks like an ex they never quite got over. Or someone they can't have but fantasise about. Someone who is sexually off limits: a boss, your best friend's partner. Some men ask for avatars of their girlfriend or wife because they can then make them do something they won't do in real life.

If that's all sounding decidedly creepy and distasteful, that's because it is! Revenge porn could be even more devastating for its victims.
However, she does go on to say that VR porn can have many 'pluses' which all involve benefiting a woman in a relationship – allowing her to experience a threesome for example, or trying a new kink before doing it for real in the bedroom.
https://www.dailymail.co.uk/femail/article-10084523/Tracey-Cox-says-virtual-reality-porn-norm-2026.html
Varjo Lab Tools Can Transfer Physical Objects Into Virtual Reality.
Varjo is a Finnish high-tech firm that makes high-end virtual reality headsets aimed at enterprise which cost over $4,000. On the 21st of October, they are announcing an exciting new headset that they say will take virtual reality to another level. This could be their latest generation ultra-expensive business orientated headset, or as some hope, it could be their first entry into the consumer VR headset market. Whatever it is, they have recently revealed mixed reality software that can digitize real physical objects and place them into your virtual reality games. The potential this has for VR porn is all-too obvious. Even for recorded VR porn, it could potentially allow the viewer to put his own penis into the scene (over the male actor's), for example.
https://mixed.de/varjo-neuer-ar-trick-bringt-reale-objekte-in-die-virtual-reality/