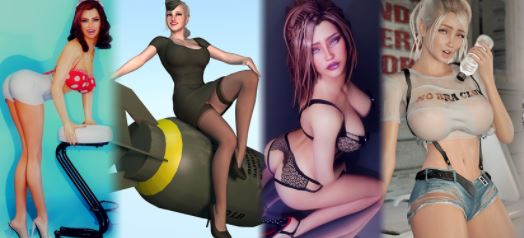 The Week In Sex Tech – Japanese Man Arrested For Depixelating Porn Using Deepfake Tech, VirtAMate Twitter Account Suspended, Sex Robots For Nursing Homes, What Is It Like To Work In VR Porn?
Japanese Man Arrested For Using AI Deepfake Porn Tech To Depixelate Porn Movies
As we are all too unfortunately aware, Japanese porn is required by law to blur out both male and female genitals. The law apparently dates from the American post-War occupation of Japan, and is often attributed to General MacArthur and Anglo-Saxon puritanism. It certainly seems very much at odds with the apparently liberal almost to the extreme attitudes towards porn in Japan, and the all manner of weird and wonderful fetishes that are covered by the dozens of Japanese porn studios. In any case, it's very much a 'stage door effect' in virtual reality porn, and spoils the otherwise markedly superior VR porn movies that Japan produces.
AI and in particular 'deepfake' tech, is now progressing to the point whereby blurred out pixels can be 'deciphered' to at least a realistic extent. However, one of the first attempts to do this commercially for Japanese porn, has led to the arrest of 46 year old Masayuki Nakamoto, under both copyright and obscenity laws.
Nakamoto specifically stands accused of violating a Tokyo video production company's copyright on Jan. 9 by processing a pornographic video to make it look like the pixelated parts were removed. He is also accused of creating obscene images from the video and uploading them to his own website, thereby making it visible to an unspecified, large online audience. He has reportedly admitted to the allegations against him.

According to the prefectural police, Nakamoto began the website in November 2020. Using AI model "TecoGAN" to increase the resolution of pixelated images, he processed and sold at the request of customers videos made to appear almost unaltered. He apparently sold 2,561 video files for a total of some 11 million yen (about $96,000). The scheme was found in a prefectural police cyber patrol.
https://mainichi.jp/english/articles/20211019/p2a/00m/0na/008000c
Although the case does appear to involve deepfake porn tech, the story has been presented incorrectly on some sites as a 'deepfake porn' issue. Japan does not currently have any laws covering deepfake porn or AI uses in porn. This does raise the disturbing possibility that depixelation tech may be covered by future deepfake porn laws, in Japan and elsewhere.
VirtAMate Twitter Suspended For 'Obscene' Banner
Twitter have recently begun what many fear may be an anti-porn purge, banning a large number of accounts for having sexually graphic banners. One notable sex tech account has fallen foul of the new crackdown – VirtAMate. VirtAMate is a software platform that allows developers to create and animate 3D models for adult VR games and porn scenes. I've followed them for a number of years, and the progress they are making is such that you really do feel you are getting a glimpse of what VR porn will become. Just before their ban, the Twitter account had reached the 20K+ follower landmark. Now they have to start again from scratch. You can help by following them at : https://twitter.com/V_A_M_Official. They also have a popular Reddit that has over 26K subscribers and showcases some of the amazing new creations of VAM developers : https://www.reddit.com/r/VAMscenes/
Sex Robots Could Be Rolled Out In Nursing Homes And Hospices To Help Lonely Residents
Or so says the clickbait headline of the Daily Star. Quoting the author of 'Love And Sex With Robots', David Levy, who apprarently believes that sex robots are the next logical step after the current introduction of 'emotional' AI robots to nursing homes and hospices.
Dr Levy referred to efforts by the Japanese Government, which has already incorporated robots into nursing homes, offices, and schools.

The country's population is ageing, which will have a knock on effect on its workforce and care system.

He continued: "The Japanese government has for the last 20 or 30 years released that they have a terrible demographic problem looming.

"There are so many old people that there aren't enough young people to look after them.

"This is the main reason the Government has been investing so heavily in robotic development because they want robots to actually take over the care responsibilities for many senior citizens."
This arguments seems rather defective to me, missing as it does, that the Japanese demographic crisis has been caused by young people not marrying and having children (something that is of course blamed on male 'herbivores' rather than women pursuing careers). But then again, however much I respect David Levy, it has to be remembered that this is a man who thought it would be a good idea to hold his sex robot conference in a hardline Muslim country (Malaysia), somethinig that resulted in jihadist death threats and the hasty move of the conference to London.
What Is It Like To Work In VR Porn? YouTube Interview With Two VR Pornstars
Jane Wild and Sera Ryder, two young American pornstars who have recently appeared in VR porn, discuss what it is like to star in adult VR. The interview was set up by SexLikeReal, who they have just made a movie together for.