The Week In Sex Tech – Haptic Sex Robots For Virtual Sex, 12K VR Metaverse Porn, Free Badoink VR Porn Movie, Live VR Sex Cams
Flexible skin patch provides haptic feedback For Robotic Telepresence
The primary use of 'sex robots' over the next few decades, may not lie in the idea of using the robot as a sex partner in itself, but rather enabling remote sex between two individuals, with one or both of the partners operating a 'sex robot' (or rather more accurately, a 'telesex doll', or 'haptic sex doll'). The liklihood of this happening in the near future increased this week with the announcement by a team of researchers in Hong Kong that they had created a flexible skin patch that allows haptic feedback for 'robotic telepresence'.
A team of researchers from City University of Hong Kong, Dalian University of Technology, Tsinghua University and the University of Electronic Science and Technology of China has developed a flexible skin patch that can provide haptic feedback to and from a person and a robot, allowing for teleoperated robots. They have published their results in Science Advances….

..they created what they call an electronic skin—a flexible skin patch that can be applied to the skin of a human controller that captures both movement and stress factors such as twisting and turning.

The patch has sensors for reading information from its own sensors, wireless transmitters to send the information it is receiving, and small, vibrating magnets that assist with haptic feedback. Groups of patches are placed on the skin of an operator at important junctures such as the fold on the front of the arm over the elbow. Some of the sensors in the patch consist of wires placed in a zigzag fashion, which are pulled straighter as the patch is bent, providing information about body movement—bending an arm at the elbow, for example, or releasing it.

All of the combined data from the patches allow an operator to control a remote robot without having to wear clumsy gear. But there is more to the system: The patches are also applied to parts of the robot to allow the operator to receive feedback. Putting patches on the robot's fingertips, for example, would allow the operator to feel the hardness of an object held by the robot, courtesy of the tiny vibrating magnets.
https://techxplore.com/news/2022-01-flexible-skin-patch-haptic-feedback.html
Remote sex partners would not even have to 'own' the robots. We could see virtual reality porn sites, or perhaps the type of Berlin 'Cybrothel' that was featured in that recent 'Kokeshi' BadoinkVR movie, 'host' the robots, as well as provide a virtual reality environment for the users to experience while they have sex. The possibilities are endless. In the not too distant future, telepresence VR sex robot orgies between multiple people could be a regular thing.
VR Bangers Announces Metaverse Intergration And 12K VR Porn Plans
VR Bangers are undoubtedly one of the top VR porn studios and have been for some time. Under their flamboyant CEO Daniel Abramovich, they also have a track record of publicity stunts, such as their 'Smell VR' headset attachment that was released to some fanfare earlier last year, and has been 'sold out' ever since. So it's with a note of caution that I inform you that Mr Abramovich has this week announced that his studio are not only aiming to intergrate their content into 'the metaverse', but are already hiring over 20 developers to make it happen. Another goal set out in the press release was the filming of VR porn videos in 12K (currently they, along with a number of other sites, claim to film in industry leading 8K, and they were for a long time the only site to shoot in 6K).
The company is currently in the process of "creating a new camera rig to achieve an even better quality that would make their metaverse even more realistic," explained a rep.

VR Bangers' goal is to reach 12K ultra-high-definition virtual reality, according to the rep, although the current generation of VR headsets does not offer this resolution.

According to CEO Daniel Abramovich, the company has made significant investments in order to integrate its VR content into the metaverse, including hiring over 20 additional developers to create a space where adult VR enthusiasts "could actually meet and discuss VR porn and/or even have sex in virtual reality with each other."

Abramovich explained that "some come into the meta to simply discuss the different quality or technology behind virtual reality porn and this is completely understandable. After all, sex in VR is completely different from regular porn, where people can only watch. Our users really love to give feedback — whether it is good or bad. 12K UHD is yet another step in VR Bangers' evolution — and we have done a lot of these steps in the past."

"We are going to request access to the Oculus metaverse since we believe that porn is actually one of the main reasons people really watch VR," he added.

Abramovich also hopes to integrate major talent into VR Bangers' metaverse operation in an interactive capacity. "These professional porn stars have fans all around the world and since normally they have to pay a lot of attention to their privacy in real life, in the virtual reality world they will not have to worry about anything," he stated. "They will be able to interact with all their followers in a safe and realistic way."
https://www.xbiz.com/news/264150/vr-bangers-announces-planned-metaverse-integration
BadoinkVR Release Free Full Length VR Porn Movie For Blue Monday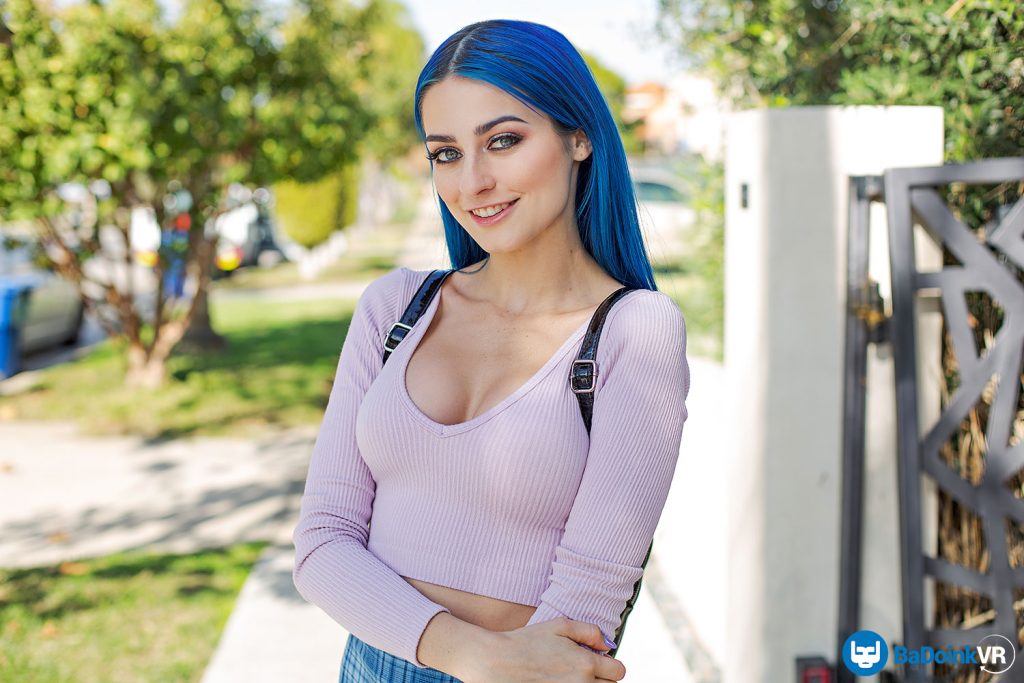 BadoinkVR are certainly another top VR porn site, and they won over some new fans this week by releasing another full length free movie, only a month after doing so previously. Last month they released 'Kokeshi', their special sex doll brothel movie filmed in Berlin, and this week they put available for download or streaming a full length compilation video featuring popular young American actress Jewelz Blu. As their reason was to cheer up VR porn fans for 'Blue Monday' (the supposed gloomiest day of the calender), the compilation is aptly called 'Blu Monday'.
https://immersiveporn.com/badoink-release-free-full-length-7k-vr-porn-movie-for-blu-monday-featuring-jewelz-blu/
Stripchat 'Democratizes' Virtual Reality Live Webcamming
The most popular VR cam host – Stripchat – has announced that it will be simpler than ever to talk to VR cam models in virtual reality. Previously, a third party app was necessary to be installed before you could enter the VR chat of live cam girls, but now that is no longer the case, including for users of the Oculus Quest 2. Despite VR porn in general enjoying a big leap in popularity since the launch of the Quest 2 in October 2020, live VR adult cams are still struggling to take off. Hopefully, this new announcement will change that.
"Watching adult cam models perform in virtual reality has been around for a few years now, but mostly for those who have the money to buy expensive VR headsets and the time to seek out and download third party VR applications," said Max Bennett, Vice President at Stripchat. "Now, we're opening the door to users all over the world who have been waiting to experience virtual interaction at the highest quality. Once you have some VR goggles, you can put them on and use them on Stripchat immediately."

Stripchat has started using new techniques for rendering 3D content with VR glasses, based on partial rendering on various layers, to optimize the application and the image quality. The platform has achieved 60fps when watching 4K video with interface elements in modern virtual reality glasses. Stripchat has also reduced the delay between models' performing actions and users noticing them to a minimum.

The platform has taken all functionalities of its site – tip menu, toy reactions, private shows, interactive chat – and merged them with virtual reality glasses. Features which can also be activated during VR shows include using a microphone to talk to the model and new interactions with physical remotes including standard PC keyboards to facilitate control over the virtual interface.
https://www.prnewswire.com/news-releases/stripchat-democratizes-virtual-reality-live-webcamming-301464820.html