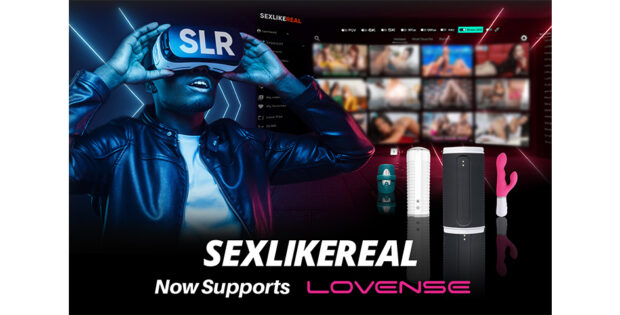 The Week In Sex Tech – Lovense Release Self-Heating Haptic VR Porn Sex Toy Calor, Mother Claims She Was Groped In Metaverse Demands Virtual Sex Assault Laws, VR Porn Market Exploding
Lovense Release 'Calor', A Self-Heating Remote Male Sex Toy
Lovense, one of the leading haptic, remote sex, and VR porn sex toy makers, has announced that their latest male masturbator – 'Calor' – is to be compatible with the 650+ VR porn movie scripts that can be enjoyed at SexLikeReal. The toy has some interesting features, including self-heating and sensors that can 'feel your depth' inside the sleeve. It's their first new haptic male masturbator since the popular Max (now in its second incarnation). Despite its high tech features, it has been designed to be simple and portable, and costs only $99.
The integration supports Calor, a new male masturbator with heating feature and depth sensors, as well as iconic Lovense toys Max 2, Gush and Nora. The partnership promises to bring incredible sensations and a sense of full presence in the hottest scenes from SLR. The integration works through the Haptics Connect app, available on Google Play and the App Store. SLR premium members will now be able to connect Max 2 and Calor male masturbators, Gush glans massager, and Nora, the first female sex toy integrated with VR porn, to the interactive videos on SexLikeReal. These interactive videos have a built-in script that makes toys react in sync with the action on the screen. The library of interactive videos on SLR includes over 650 titles and growing, suited to every fancy.
Read more at ean-online.
Mother Claims She Was Groped By Three Male Avatars In The Metaverse
A horrified woman has described to the Daily Mail how her avatar was 'groped and assaulted' by three laughing males within seconds of her first visit to the 'metaverse', or rather Meta's 'Horizon Worlds'. Still traumatized by the ordeal, Nina Jane Patel has wasted no time to lobby for stronger protection in the hypothetical metaverse for women and teenage girls. According to the article, 'virtual' sex assaults could soon become a crime in the UK.
Mrs Patel's experience will heighten fears that the metaverse, which experts predict could be worth up to £500 billion a year by 2024, will become a haunt for sex attackers and paedophiles.

A senior lawyer said the attack was not an offence, but suggested Ministers may have to consider how to protect those entering the metaverse. Nick Brett, of London law firm Brett Wilson, said: 'Where a woman has been sexually assaulted virtually, that itself possibly ought to be illegal but isn't at present.'

He said the Sexual Offences Act 2003 may need to be amended to prosecute people who hide behind avatars, adding: 'There have previously been amendments – most recently on up-skirting – so there is no reason why it couldn't be.'
VR Hardare Sales Doubled During Holiday Period
There had been a lot of speculation online over sales of the Oculus Quest 2 during the holiday period, and with news such as that the Oculus app was the number 1 downloaded app on the iPhone over Chirstmas, or the unofficial Oculus VR porn subreddit (r/oculusnsfw) going from 125K to 128K subscribers in a matter of days, we knew that millions of headsets had likely been sold. Now it's official – according to a report by the NPD group, sales of XR headsets more than doubled between Thanksgiving week (Black Friday week) and Christmas.
sales for AR and VR hardware more than doubled in the US during the 2021 holiday season (between Thanksgiving week and Christmas), jumping 180 percent compared to 2020. The growth wasn't quite so brisk for the full year at 'just' 163 percent, but there was clearly a lot of demand for immersive worlds.
Raw revenue also climbed 153 percent during the holidays and 137 percent for the year. That suggests people were buying lower-cost or discounted AR and VR devices.
Although many of those new headsets were likely bought for children and teenagers as Xmas presents, there's no doubt that enough adults bought or were gifted a VR headset over that period to have a massive impact on the VR porn market. As mentioned above, the unofficial VR porn subreddit, which has been in existence for 5 or 6 years, jumped from 125K to 128 subscribers during Chirstmas week. At the end of January, it now stands at 132K subscribers. With another (higher end) headset planned by Oculus/Meta (Project Cambria) to come out later this year, as well as the new Playstation VR headset (the PSVR 2), and even a VR/AR headset from Apple possible launched too, virtual reality porn could go from a small niche market to something that begins to make 2D porn look outdated. A YouTuber who recently uploaded the following video, certainly agrees (note that it references an article at ImmersivePorn.com that claimed the VR porn market could already be worth $1 billion, and according to an independent report would grow to $9 billion by 2026.