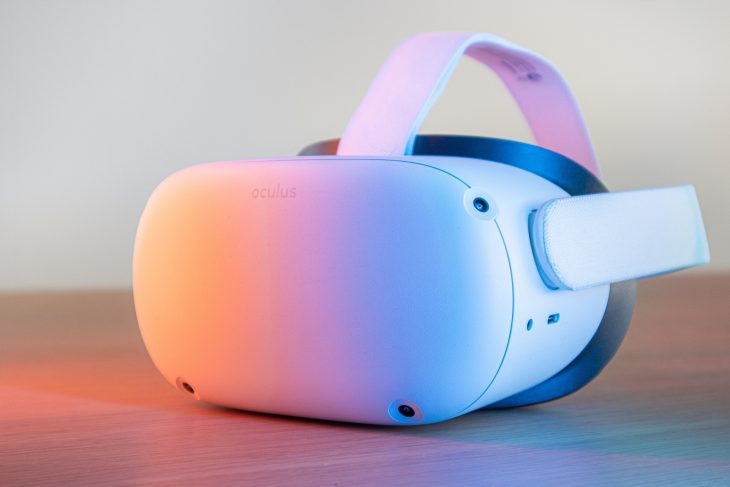 Five Biggest Sex Tech Stories Of 2021
The VR Porn Market Grows Again
The launch of the Oculus Quest 2 in October 2020 increasingly looks like a pivotal moment in the history of virtual reality, and consequently VR porn. By the end of 2021, it will likely have sold as many headsets as every other VR headset both previous and current put together (at least discounting the 'Gear VR' and free cardobard VR headsets). It can't really be said that VR porn itself has evolved or changed much, although by the summer of 2021, almost every top site upgraded to 7K or 8K resolution (the Oculus or Meta Quest 2 can display close to 8K resolution). On top of that, we didn't see the launch of many new VR porn sites (a notable exception was deepthroat VR site 'SwallowBay'), although in an encouraging sign, SinsVR ended its long hiatus and relaunched as XSinsVR. After several years of stagnation, the VR porn market grew considerabley during the year, and looks set to massively increase in 2022. Hopefully, new sites, better sites and better content, and more premium porn actresses in VR porn, will all happen in 2022.
A Step Backwards For AR Porn
2021 started so promisingly for AR porn, with an exciting demo app featured on the BadoinkVR home page, the continued promotion of 'Naughty America Strip Club' and their '3D Creator' tool that allowed members to create their own 3D avatars and animations, and the launch of a purely cgi AR porn app called AR3X. Unfortunately, over the course of the year, both the Badoink AR app and Naughty America Strip Club were abandoned. The AR3X app also appears to have been at least put into hiatus. Furthermore, the long running Holodexxx Patreon project seems not to have progressed much, if at all, during 2021, with their blog not updated since June of this year. To cap it all, the original attempt at commercial AR porn – ARConk.com – has disappeared from the VR Bangers homepage (the VRConk company behind it was acquired by VR Bangers this year.)
This is all a little surprising, given that augmented reality appears to be taking off, with possibly a massive breakthrough year ahed in 2022. While viewing AR porn on a mobile phone is likely always going to be something of a gimmick, the bestselling VR headset the Oculus (Meta) Quest 2 acquired basic AR features recently, with a much more advanced VR headset (Project Cambria) that has far more advanced AR coming from the same company (until recently known as Facebook) coming in 2022. Apple are heavily rumored to be releasing a much anticipated AR/VR headset in 2022, and a couple of months ago, the first commercial AR glasses (from Nreal) launched on the US market, having already been available in South East Asia and Germany. With the market for AR porn likely to explode in 2022, it's likely that 2021 was only a temporary set back for adult AR.
Moral Panics And Laws Against Deepfake Porn
Sex robots and deepfake porn fuelled some increasingly intense moral panics over sex tech, and even some draconian laws in a number of countries, particularly as regards deepfakes and 'nudifying tech' as one feminist politician in the UK terms the object of her legislative fury. South Korea led the fight against male sex tech by introducing laws against deepfake porn and then facing demands to make the punishments for transgressors even harsher. This sex tech war wasn't entirely a one way street though. A number of male fans of deepfake porn pointed out the double standards involved in demonizing and criminalizing men for creating nude images of female celebs while a long established and still legal culture of highly erotic 'fan fiction' is present in South Korea, in which mainly female fans write explicit sex stories involving real male and female celebrities.
Evolutionary Psychologist Rob Brooks Publishes 'Artificial Intimacy'.
A cooler headed look at what perils and promises sex tech might bring was delivered in the form of a book by evolutionary psychologist Rob Brooks titled 'Artificial Intimacy : Virtual Friends, Digital Lovers, and Algorithmic Matchmakers'. Brooks makes the point that although sex robots are currently bearing the brunt of sex tech panics (he doesn't really discuss deepfake porn, presumably not seeing it as an issue), VR porn and 'virtual lovers' are far more likely to have a major impact upon our social, sexual, and romantic lives, and no doubt the moral hysterias are just around the corner for them too. In fact, no sooner has interest in VR and consequently VR porn picked up again with the hype over the 'Metaverse', and a woman has claimed that she was 'groped' in Meta's 'Horizon Worlds' (seen as the beginnings of that company's attempt to build a metaverse).
The Interractive Sex Toy Community Continues To Grow
While it was actually rather a quiet year for major new male sex toy launches, the buzz around interactive sex toys for use with VR porn continued to grow. This was in no small part due to the success of The Handy, a male masturbator released in 2020 that can be synched with VR porn movies. Rather simple compared to its leading rivals, the success of The Handy can be attributed to its novel design (the sleeve is conjoined to the case housing the motors, rather than inside it), ease of use, and the growing number of 'scripts' available for it for matching VR porn videos. 'EuroScripts', a community of interractive sex toy enthusiasts who share scripts with each reached the milestone of over 600 free scripts in September of this year. Hopefully we will see further innovation and upgrades in the world of haptic sex toy industry in 2022 from the likes of Keon, Lovense, and possibly a Handy V2.0.
Featured image by Remy Gieling on Unsplash