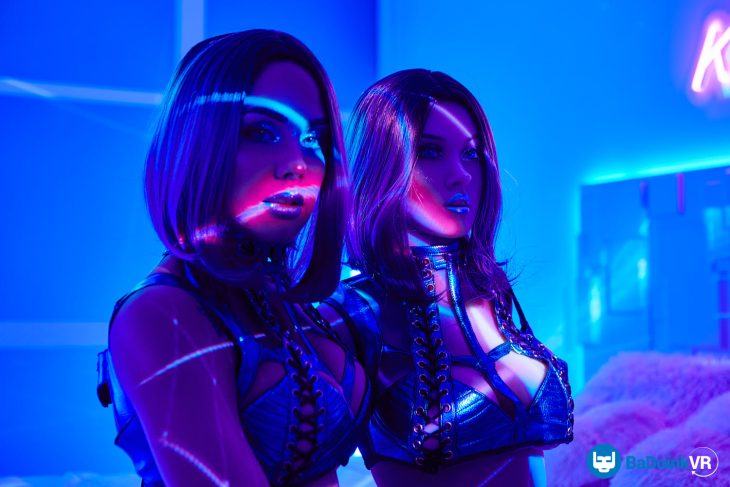 The Week In Sex Tech – BadoinkVR Partners With Berlin Sex Doll Brothel, First Sex Assault Claim In The Metaverse, SLR Offers Money For Sex Toy Scripts
VR Porn Site BadoinkVR Partners With Berlin Sex Doll 'Cybrothel'
Top VR porn site BadoinkVR have partnered with a sex doll brothel in Berlin. The innovative VR studio has linked up with the ambitious 'cybrothel' that has as its centerpiece a realistic sex doll called 'Kokeshi', and which aims to create an immersive 'adult playground' that incorporates sex tech and both augmented and virtual reality'. The partnership currently consists of a specially filmed VR sex video that was shot at the brothel and features both the sex doll Kokeshi and pornstar Angie Lynx.
A representative of Badoink posted on Reddit :
Guys, we've been working really hard on this scene. This bonus scene is really something else and we absolutely can't wait to hear your thoughts about it.

Fuck Angie Lynx as Kokeshi in 7K 180-degree stereoscopic virtual reality. Are you ready to travel to another dimension? You better be. Welcome to the Cybrothel, an immersive virtual reality experience with high-tech sex doll Kokeshi and Finnish superstar, Angie Lynx. Put on your Quest 2, Go, or Vive and stream or download this unique VR journey. Cross dimensions, mix reality with fantasy and discover your deepest desires. Slide your dig between Angie Lynx's big tits, watch her give you the best blowjob of your life, and fuck her all the way to climax. Brace yourself, oh explorer of hidden dimensions. You're in for a wild ride.
Read more : Berlin 'Cybrothel' Partners With BadoinkVR For Special Sex Doll Scene
Woman Claims To Be First Groping Victim In The Metaverse
A female tester of Meta's Horizon Worlds has claimed that her avatar was groped by a stranger, in a story that has received quite a lot of interest in mainstream media, such as at The Daily Mail.
'Sexual harassment is no joke on the regular internet, but being in VR [virtual reality] adds another layer that makes the event more intense,' the unnamed beta tester posted in the official Horizon group on Facebook
Horizon Worlds is seen as the first attempt by Meta (formerly Facebook) to create their much hyped Metaverse. It seems odd that somebody is claiming to have been groped so soon after 'the Metaverse' launched. Not long after the Oculus Rift launched and virtual reality was being hyped, a woman claimed to have been groped in her headset. The story was used to justify the first calls to regulate virtual reality. Since VR has (until recently) fallen back under the radar for the most part, I have not read of any further 'gropings' until this one. However, two years ago, almost immediately after 'virtual celebrities' were being hyped, one of the most famous of them – a CGI Instagram model by the name of Lil Miquela ' – claimed' to have been molested. And of course, when sex robot hysteria was at its peak in late 2017, a story of a 'sex robot' being 'molested' and damaged by horny visitors to the sex tech fair it was being exhibited at made the headlines. It would appear that this story was an illjudged marketing ploy by the creator of 'Samantha', Sergei Santos. And as well as attracting him and his dubious 'sex robot' some attention, it inevitably also provoked some knee-jerk reactions in the media and give radical feminists further opportunity to promote their claim that sex robots promote violence against women.
VR Porn Site SexLikeReal Offers Money For Sex Toy Scripts
One of the leading VR porn sites has offered VR porn fans the opportunity to create 'scripts' for a variety of interactive sex toys, and get paid for it.
Script creators get 50% of script sales, 10% goes to content producers (actual copyright owners) and the rest 40% is SLR share. By becoming the SLR Script creator you get a legal right to script and sell the script on SLR. Without such explicit right obtained from copyright holder you are not allowed to distribute scripts.
SexLikeReal are leading the way in turning VR porn into virtual sex with an ever increasing percentage of their VR videos having scripts available that when used with a suitable haptic masturbatoer, allow you to actually 'feel' the action as you experience it inside your headset.