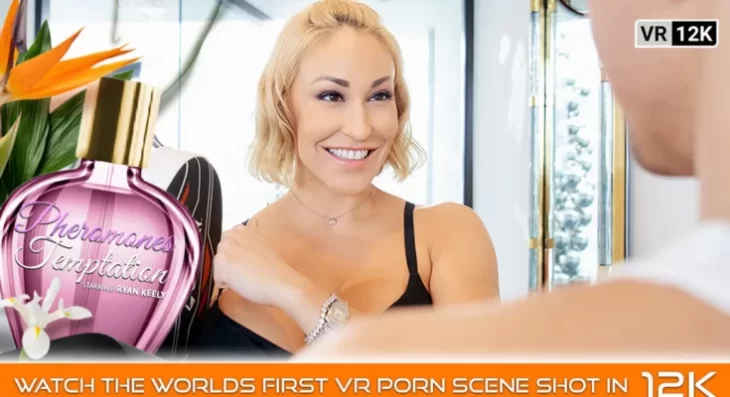 The Week In Sex Tech – First 12K VR Porn Movie, AI Porn Threatens OnlyFans, New 3D AR VR Porn Site, GQ Magazine Meets The iDollator Community
VR Bangers Release The World's First 12K VR Porn Movie
Leading VR porn studio VR Bangers has become the first to release a video in 12K. The scene, called 'Pheromones Temptation', starring Ryan Keely, is claimed by the studio to have been filmed in true 12K (rather than 'upscaled'). However, some VR porn fans have complained of problems viewing the scene due to an inadequate codec. There are also currently no VR headsets on sale to the general public that are 12k (that will change shortly with the Pimax Reality 12K VR headset). Still, it's a notable landmark in the history of VR porn, and was was mentioned as a goal of his company by the VR Bangers CEO Daniel Abramovich at the start of last year, along with 'Metaverse integration'.
Read more : https://immersiveporn.com/vr-bangers-release-the-first-12k-vr-porn-movie/
AI Porn Could Threaten OnlyFans
At least several articles have appeared recently that discuss the possible ramifications for the adult industry of the rise of AI generated porn, both for studio based porn, and OnlyFans type 'creators'. According to AIPornSites.com, the new AI porn generation combined with deepfake porn tech, could destroy the bond of trust that the OnlyFans creator relies on :
The increasing sophistication of deepfake and AI porn generation technology means that pretty soon, an OnlyFans model making money from selling bikini pics to her loyal fans, could find herself deepfaked and replicated in artificial images, that are impossible to distinguish from the real thing. And not only in fake bikini pics, but in hardcore pics and, likely soon, hardcore porn videos. This is a problem on two fronts. Why would fans pay money for her bikini or softcore photos when not only are her pics available on free sites, but hardcore videos of her are available as well? You may say that it will only increase that personal connection and bond of trust, as only by paying to subscribe to her OnlyFans account would a simp be guaranteed that her photos are real. But would it? No doubt before too long, many OnlyFans models will be creating images of themselves that have been AI generated, just as they sell images of themselves that have been photoshopped, and nobody will be able to tell if they are real or AI. And even more challengingly, OnlyFans models could create entire fake physical personas of themselves. The 'beautiful 18 year old bikini babe' you are simping and subscribing to, could be a 50 year old fat middle-aged man using an AI porn tool.
An adult industry blog explored similar themes, in an article titled – 'How AI Porn Could Threaten The Existence Of OnlyFans'.
Onlyfans adult content creators have built their careers by offering unique, personalized experiences to their subscribers, and the growth of AI porn threatens to dilute the value of their work.

While some may argue that AI-generated content could never fully replace human-created adult content, the uncertainty that it instills in some creators is real. AI is moving at such a fast pace, that none of us are really sure where it is taking us.

One of the most difficult aspects of AI-generated porn, is the potential for identity theft. Many OnlyFans models take great pride in their work, crafting a distinctive brand and persona that sets them apart from others.

With the proliferation of, pretty amazing, deepfake technology, these creators could now be now at risk of having their images, voices, and even their personalities, replicated without their consent.

This worrying prospect is leaving many models feeling vulnerable and exposed, at the thought of their businesses and livelihoods being stolen from them. One Onlyfans model, recently mentioned to me, that this is becoming a real fear for her.
And writing for JumpStart Magazine, Kamya Pandey shares the same concerns relating to DeepFake porn and the threat to OnlyFans creators, but also points out some positive things that AI generated porn can bring :
The biggest plus point of AI-generated porn is that it can be used to generate content that is far too problematic to put actual people through. It can also be used to bring vintage porn into the digital world. For instance, in 2021, Pornhub used AI to remaster porn from as far back as 1920s into colorized 4K visuals. These films have a lot of historical significance with one of the films (The Kiss, 1986) having the first kissing scene on film ever.

It can even be used to empower porn stars. A good example of that is how OnlyFans creators used AI last year. They used an AI art filter created by TikTok as a workaround for the platform's community guidelines around sexual content. The filter generates paintings, and OnlyFans creators used the filter to create suggestive paintings of themselves to encourage people to subscribe to their OnlyFans accounts.
SexLikeReal Developing DeepFake Porn Tech For VR
Despite the media hysteria over deepfake porn, recently ramped up due to a scandal on Twitch and also the rise of AI generated porn, VR porn site SexLikeReal claims that it is developing the technology for VR porn. Responding to a Redditors question as to the availability of an app to deepfake his ex-girlfriend on to VR porn scenes, a SexLikeReal rep responded :
We'll be adding voice synthesis using AI so that performers will speak your scripted words in their own voices (this will likely be short phrases).
Read More : https://immersiveporn.com/sexlikereal-developing-face-swap-ai-tech-for-deepfake-vr-porn/
New 3D Scanned AR VR Porn Site Launched – 3DUncut.com
Naughty America now has a rival when it comes to 3D scanned pornstars you can view in both VR and (true) AR. 3DUncut.com currently features 56 holograms and 6 different 'creators'. The team behind the site announced it on Reddit..to an admittedly rather lukewarm reception :
We just launched our new 3D NSFW content site – https://3duncut.com/ – and I'd love to hear any thoughts.

We use volumetric video for a fully immersive experience in AR or VR, meaning you can zoom, spin and move the camera to see every angle – so it's much more immersive than 360 video. We're just getting it off the ground and have shot with primarily influencers/models, but will be adding more NSFW content soon.

There's a lot of free content, but also premium content as well. You're our target audience, so I'm excited (and slightly terrified) to hear what you think. Thank you!
GQ Magazine Discovers The iDollator Community
Probably the most important mainstream article on future male sex tech and digisexuality for a little while was to be found in GQ magazine, which took a look at the iDollator community. That is, people who love sex dolls and who feel that they have 'relationships' with them. There are some interesting bits and pieces in it, for example the acceptance that the majority of sex doll lovers are not incels, but rather middle-aged men, often divorcees, who just have just had their fill of real relationships.
But, despite mainstream assumptions about doll owners as sexually frustrated loners, not everyone's origin story follows this pattern. In fact, says Ken Hanson, a sociologist who researches sex tech development, and the author of a 2022 study into the owners of sex dolls, many iDollators are mid-life divorcees, some of whom have children. Rather than having little or no experience of real-life sex, they often just have more of what he calls a "cynical, sceptical, or rational approach to relationships." He adds: "After a lifetime of divorce and disappointment, they simply chalked it up to a numbers game and folded their hand."
It also brings up some interesting facts on the growing size of the sex doll industry.
Regardless of why people are buying them or what they're using them for, the sale of artificial dolls is on the rise. According to recent statistics, the global sex doll industry is on course to be valued at nearly $600 million (£530 million) by 2027, having grown by almost eight per cent since 2021. Sales surged during the pandemic, with one US company reporting a 51.6 per cent increase in orders from single men alone (though sales were also up for couples and single women).
Read the full article : https://www.gq-magazine.co.uk/lifestyle/article/the-deeply-human-love-stories-of-people-and-their-ai-sex-dolls