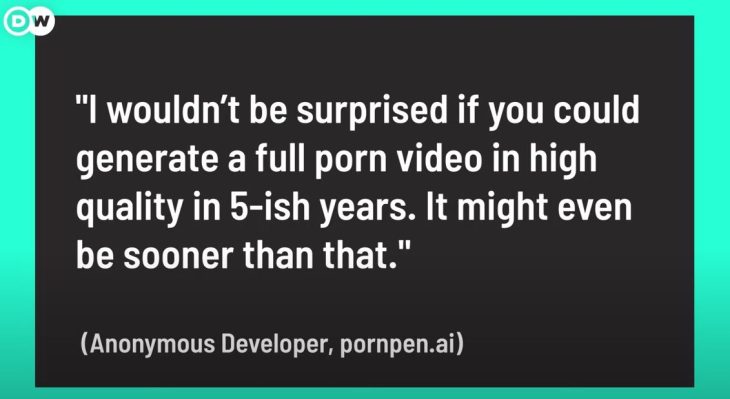 The Week In Sex Tech – PornPen AI Premium Membership, Brain Waves XR Sex Tech For VR Sex Dolls, VamX Adult VR Porn Game Platform Upgrade
PornPen.ai Developer Now Charges For Premium Membership
PornPen.ai is currently the only free and simple online AI generator for porn images, and it recently added premium access for subscribers to the developer's Patreon account. Premium members gain extra tools for editing and tweeking, as well as priority for image generating when the 'server is overloaded' (nearly always). With the premium membership costing around $20 a month, and over 200 new subscribers each day, the developer is earning over $4K daily already. I doubt if he will have his present monopoly on AI porn generation for long, so expect a rush of similarly free generators appear online soon. However, the individual behind PornPen.ai predicts that within five years, high quality porn videos will be generated by AI. Maybe he also hopes to be the one who will be first to bring AI porn videos online? The YouTube video below from German (English language) broadcaster Duetsche Welle contains some interesting quotes from the anonymoous developer, including the claim that AI will empower sex workers by enabling them to make money from an entirely fictitious presentation of themselves.
Google Will Blur Sexually Explicit Images
In a new victory for anti-porn campaigners, Google has stated that it will automatically blur sexually explicit images, even when their existing 'safe search' filter isn't switched on.
A new setting, rolling out "in the coming months," "will blur explicit imagery if it appears in Search results when SafeSearch filtering isn't turned on," writes Google's Jen Fitzpatrick, senior vice president of Core Systems & Experiences. "This setting will be the new default for people who don't already have the SafeSearch filter turned on, with the option to adjust settings at any time."
Read More : https://arstechnica.com/gadgets/2023/02/google-will-soon-default-to-blurring-explicit-image-search-results/
Brain Waves XR in Partnership With Ohmydoll
A mainstream Canadian VR start-up called Brain Waves XR, that is developing a method called 'Flow' to influence a user's mental states in virtual reality by manipulating the light from the headset screen, has dared to venture into sex tech. Partnering with VR sex doll company Ohmydoll, it claims that its Flow system can not only stimulate sexual arousal, but even the sensation of touch.
Brain Waves XR, a Canadian start-up originating from Montreal (QC), has developed a unique VR process called the Flow. This changes the light emitted from the VR headset screens and modifies the way it's processed and interpreted by the brain, creating different immersion modes to provoke a variety of positive emotions. Brain Waves XR founder, Kais Latiri, explains how tricking the signals transmitted to various areas of the brain as sensory information, could be a game changer for many industries, including mental health and sexual wellness. Imagine someone with the fear of rejection isn't helped by conventional therapy. With the help of real case scenarios and Brain Wave XR's VR process, this person becomes reassured and confident around others. At Brain Waves XR, we provoke a change in emotions by exposing the person to scenarios in which they might usually fear rejection and replace that fear of rejection with confidence. That feeling of confidence might be temporary, or it could be longer lasting. We're now at this juncture. We're finding ways to conduct analyses and collect data over a relatively long time period. In collaboration with psychologists and sexologists, we believe our VR programs have the power to benefit society in these promising new ways.

Brain Waves XR intends to leverage its Flow technology to build up different companies targeting specific industries. Kais Latiri affirms that the process is at work with a sexual-wellness branch already offering the Flow technology process. Ohmydoll is a fully automated adult playground combining sex toys and VR, where people can explore their sexuality through ethical, legitimate, safe-sex experiences. Better yet is that people will experience an abundance of sex hormones and a positive change of their emotions by using VR porn that's transmitted through Brain Waves XR's Flow technology.
Source : https://www.businesswire.com/news/home/20230117006209/en/Brain-Waves-XR-in-Partnership-With-Ohmydoll-Announces-Deciphering-the-Code-for-Depicting-Emotions-in-VR-and-Providing-the-Sense-of-Touch-Without-Haptics
VamX 1.27 Released With Improved Expressions and Lip Synch
CGI adult VR game development platform VamX has announced their latest upgrade. The latest version offers improved expressions, improved lip sync, as well as Lovense Max, Lush, and other toy support.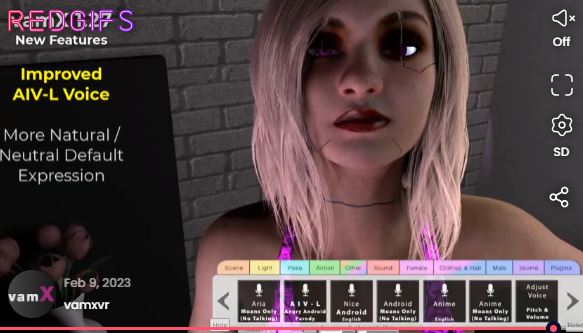 Read more : https://www.reddit.com/r/ImmersivePorn/comments/113n06u/vamx_127_improved_expressions_improved_lip_sync/