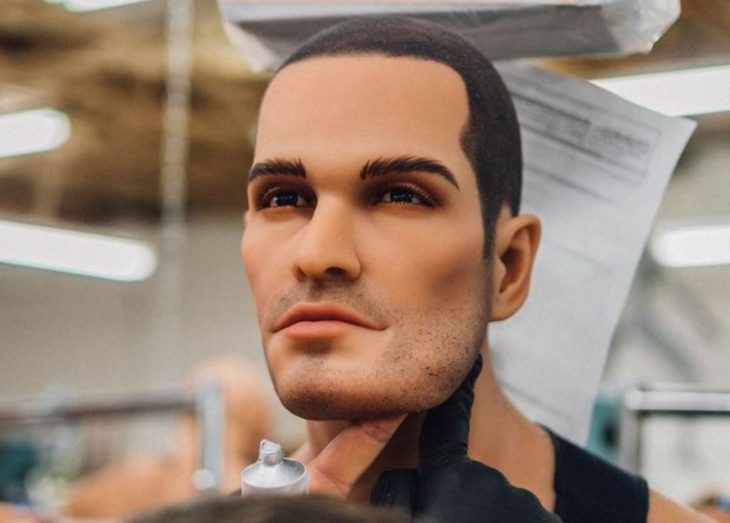 This Week In Sex Tech – VR Bangers Buys VR Conk, Square Jawed Male Sex Doll, New York 'Sex Deception' Law, Heat and Pain for VR
VR Bangers Acquires Rival Virtual Reality Site VR Conk
Daniel Abramovich, the CEO of top VR porn site VR Bangers, has announced that his company has acquired the long running site VR Conk. The latter now joins a stable of sites that includes not only VR Bangers, but VRBGay.com, VRBTrans.com and Dezyred.com.
"Expanding the scope of our business has been one of the company's priorities since the day it was founded," VR Bangers CEO Daniel Abramovich said. "VRConk is another step in our expansion and we are sure that our fans will appreciate the goofy style of its productions."

The profile of VRConk's content, Abramovich added, is "entirely different from VR Bangers, thus being another way for us to increase the variety of our VR porn experiences."
The two sites had clearly been co-operating for some time, as the AR Conk augmented reality app was already being sold at VR Bangers and had been for over a year. As more money comes into VR porn with the growth of headset sales, perhaps we will see more acquisitions of smaller sites by the top studios.
VR Bangers Expands Network With Acquisition of VRConk
RealDoll Reveal Male Sex Doll With 'Strongest Jawline'
Top American sex doll producers RealDoll showcased on their Instagram account a picture of their latest male sex doll 'with the jawline since the 90's'. No doubt it gives a hint of their future male sex robots. It's not known if the 'Campaign Against Sex Robots' disapproves of this one, or has secretly reserved a few for their members.
Meanwhile, RealDoll spokesperson 'Brick Dollbanger' now has an OnlyFans account where for $4.99 a month, you can get an insight into his life as a sex robot evangelist.
My name is Brick Dollbanger. I am from the future. I have come here to show you the beauty of the Synthetic Sexual life. If you are in the Doll Life or just considering it. Please take a look at this page, it will change the way you think about life and sex. Enjoy your lives, you only get one. Add a synthetic sexual AI or a static doll to your life and experience a presence that you never thought was possible. We all deserve to be happy. Pursue a different path, it may not be for you. But then again, what do you have to lose, to take a look…
Deceiving Your Sex Partner Could Become A Crime In New York State
A proposed bill backed by Democrats could mean that deceiving a sex partner – through lying about your age, relationship status, or wealth – will become a sexual offence in the State of New York.
Obtaining sex through "deception," "concealment," or "artifice" could violate consent. A group of New York lawmakers is trying to redefine consent in a way that would make it a crime to be less than fully truthful with sex partners. Under the new proposal, antics now considered merely caddish or immoral—like lying to a prospective sex partner about one's relationship status, social standing, or future intentions—would count as criminal sexual misconduct.

Now in committee, Assembly Bill A6540—sponsored by Assembly Member Rebecca Seawright (D–New York City) and co-sponsored by three other Democratic lawmakers—would amend New York state's penal code to define consent as "freely given knowledgeable and informed agreement" that is "obtained without the use of malice such as forcible compulsion, duress, coercion, deception, fraud, concealment or artifice."
It is unclear if women wearing heavy make-up or lying about their age, or their virginity status will ever be prosecuted under this law, but my guess is no, and if it ever does it will be through the law of unintended consequences. 'Joking' aside, this is one of those laws that could cause mayhem down the line as sex tech progresses. Already with the rise of online dating and the fact that nearly all relationships are built at least partly online, it has become the norm to be at least a little bit liberal with the truth. Such as men putting an extra inch to their height on profiles, or women knocking a couple of years off their age. Then there is the photo-shopping of images. I doubt if anyone is going to be prosecuted for using excess contrast in their dating profile photos under this law, but imagine when people are having haptic virtual avatar sex as much as 'real' sex. Will a person be liable if their avatar was not 'truthful'? Critics of the proposed bill have already pointed out that it could lead to trans people being prosecuted for not informing their lover of their identity before sex.
Heat And Pain Added To Haptic Sensors For Virtual Reality
I recently reported that a VR porn company was selling headsets that allowed you to 'smell' the actresses in virtual reality. We might soon be able to feel heat, cold, and pain in VR too. That's thanks to a company called 'ThermoReal' which is developing flexible thermoelectric devices that can be embedded into virtual reality applications in order for the viewer to experience heat, chills, and even pain. The company hopes that their technology will eventually be incorporated into haptic gloves and even full body suits.
TEGway Co, an affiliate of ThermoReal Inc., developed the world's first high performance flexible thermoelectric device (F-TED).
Based on F-TED technology, ThermoReal Inc. is introducing ThermoReal® solution which enables game/VR/AR players to feel temperature and pain according to the game scenes with no delay.

ThermoReal® solution can be integrated to joystick, controller or game pad and ultimately, in the future, to haptic glove or VR suite.
As for VR porn, imagine feeling a realistic skin temperature as you touch somebody in virtual reality. Imagine a girl in VR whispering in your ear and feeling the warmth of her breath, or her giving you a blowjob and experiencing the warmth of her mouth (as well as, hopefully, all the other stuff). As for the 'pain' part, well I guess lovers of BDSM will have uses for that.
Meanwhile, haptic body suits are progressing nicely as can be seen here.
VR Porn Movies I've Enjoyed Researching this Week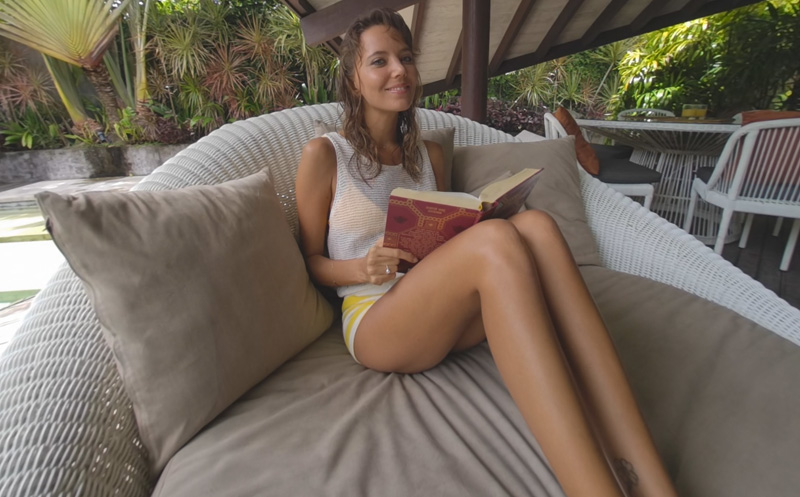 Bathroom Sin (VirtualTaboo) Ft. Kate Quinn
East European babe showers her nubile body.
Bikini Bookworm (StasyQ VR) Ft. Katya Clover
Another hot girl featured by erotic softcore site StasyQ VR.