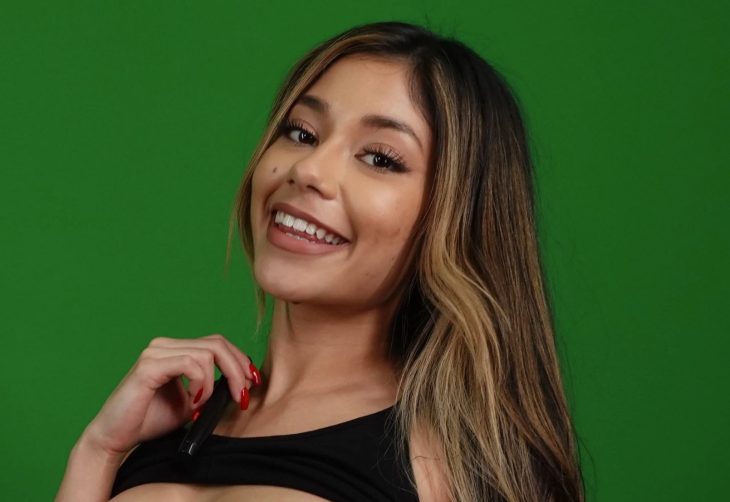 Week In Sex Tech – Passthrough AR Porn Scenes, Rob Brooks Sex Tech Discussion, BBC Doc On Deepfake Porn
SexLikeReal Filming Scenes For AR Passthrough On The Meta Quest Headsets
VR porn studio and aggregator SexLikeReal is now filming scenes specificaly to be experienced in passthrough mode on the Meta Quest 2 or the Meta Quest Pro. They should also work on the new Pico 4 with its high-resolution color passthrough. Experiencing VR porn in passthrough as augmented reality has now become a lot easier. The VR video player app DeoVR now has a feature to select passthrough mode. The first SLR passthrough scene features the sweet faced young American actress Xxlayna Marie.
A redditor this week gave a useful little summary of the state of passthrough AR porn at the current time :
Videos need to have a uniform background in order to work with passthrough and the actress/avatar shouln't share color with that background. Examples that will work are white walls, black backround (though if there are shadows they will ruin it because they are black).

Basically if the scene is shot in a standard environment, f.e a room, with furnitures it won't work (will look horrible). Passthrough basically removes the uniform background and replaces it with image from your headset cameras. Effectively placing the actress and the avatar into your room.

Don't get your hopes up, currently this isn't that good of an experience – very small amount of videos shot to date can work with it, and passthrough in most headsets (Q2) is black and white so it kinda of sucks. There are headsets entering the markets with color passthorugh which might work better. Ideally you want both color passthough and depth sensor (otherwise camera image is flat, not 3D). Both Pico4 and QPro have color passthrough but they do not have depth sensor.

This concept is in diapers and currently only for hardcore enthusiast of this kind of thing.
https://www.reddit.com/r/oculusnsfw/comments/y9z0sp/comment/itctyzp/
Radio Discussion On Sex Tech Featuring Rob Brooks (Artificial Intimacy)
Rob Brooks, who is the author of one of the most important books on sex tech in recent years ('Artificial Intimacy: Virtual Friends, Digital Lovers, and Algorithmic Matchmakers') took pat in a discussion this week on Australian Radio. You can listen to it here.
Too much. Not enough. Too weird. Not weird enough. Sex is enjoyed, explored, exploited, and policed in countless ways. The pleasure and pain of writing about sex … with authors Jennifer Mills (The Airways, Dyschronia), evolutionary biologist Rob Brooks (Artificial Intimacy: Virtual Friends, digital lovers, and algorithmic matchmakers), and Josephine Taylor (Eye of a Rook) and Natasha Mitchell from the stage of the 2022 Quantum Words' Writers Festival in Perth.
BBC Documentary On Deepfake Porn
BBC 3 aired a documentary on the perils of deepfake porn, which apparently takes 8 seconds to make, but ruins lives forever. At least according to the feminist activist presenting the programme, who played a leading part in the successful campaign against PornHub.
If you can access BBC iPlayer in your location you can watch it here.
Within the documentary, Jess, 29, speaks to two of the perpetrators creating and facilitating this graphic content – 'Gorkem', who makes the images and videos for clients, and 'MrDeepFakes', whose website of the same name garners 13 million visitors every month and has nearly 250,000 members.

'I can see how some women would have psychological harm from this, but on the other hand, they can just say, "It's not me, this has been faked, I can't suffer any damages from this,"' says Gorkem. 'I think they should just recognise that and get on with their day.'

Callously, he adds that if there was a chance he could be traced online, then he would stop and 'get a new hobby'.

Mr Deepfakes agrees: 'I think that as long as you're not trying to pass it off as a real thing, that should really matter because it's basically fake. I don't really feel that consent is required – it's a fantasy, it's not real.'

However, Kate disagrees.

'That is probably one of the most ridiculous things I've ever heard,' she says. 'I don't know what world he's living in, if he's able to create these things and think that it doesn't have any impact on someone's reputation.

'It's incredibly frustrating because I feel like there's definitely a weird separation of "the virtual world" and "the real world", and that isn't where we live anymore. We're not going into our Internet browsers via dial up – every single element of our lives is integrated online.
https://metro.co.uk/2022/10/21/deepfake-porn-takes-seconds-to-make-but-can-wreck-lives-17605029/