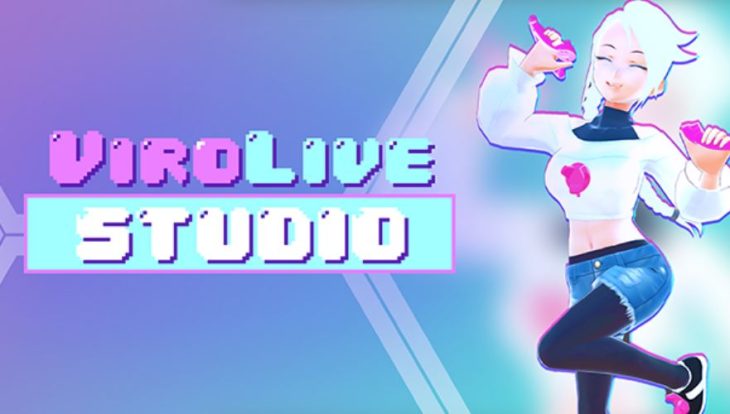 Week In Sex Tech – Live Virtual Avatar Girls, Sex Tech Twitter Feeds, AR Passthrough Porn On Quest
ViRo Playspace, LewdTube Launch 'ViRo Live Studio'
Vtubers, are live webcam performers who use an avatar rather than their real appearance. Apparently it's a growing trend, and it might be our first glimpse of what an adult metaverse will look like. Live casting as a sexy virtual avatar just got a whole lot easier too. Last week the creators of ViRo Playspace announced they had teamed up with LewdTube to bring you the first Vtuber performance solution designed for adult streamers.
"Built on the engine behind the studio's most popular virtual cam performer, Vex Ruby," a rep explained, "ViRo Live offers professional, full-body and facial motion capture along with the ability to import custom models, Chaturbate and other popular cam site API integration, tipping and live customer interaction support, as well as integration with over 100 of the most popular haptic sex toys from manufacturers such as Lovense, Kiiroo and many more."

ViRo Live Studio enables any cam performer to "fully express themselves as a virtual avatar."

LewdTube, which operates a directory of virtual webcam models, is also offering the "Vex Helmet," a helmet with a phone mount, designed to help the face-capture process track a performer's facial expressions.
Perhaps the technology will also enable photo-realistic true to life avatars with realtime face capturing? Meta, as well as others, are certainly putting a lot of money into efforts to achieve that. But it's possible that in the metaverse, particularly the adult metaverse, a majority of people may prefer to show themselves at least as somewhat idealized representations of their true selves, just as so many do for their online profile avatars today. It's an interesting thought that there are already thousands of men, who some would insult as 'simps', who are ready and willing to pay money to be aroused by a female avatar who might physically bear no relation at all to the actual person behind it (and who might not even be a woman).
Read more : https://www.xbiz.com/news/267435/viro-playspace-lewdtube-launch-viro-live-studio
https://www.lewdtube.com/lewd-news/viro-live-studio-launched-on-steam/
Only Eight of 40 'People To Follow In Sex Tech' Are Male
One of the bigger 'sex tech' blogs out there (SexTechGuide) has published it's list of the 40 essential Twitter feeds to follow. Only 8 of the 40 names are male. They even manage to make room for anti-porn hub activist Laila Mickelwait, who is pretty much the embodiment of anti-sex tech. No place though for the likes of NoFap debunker David Ley, or for the founders of the concept of 'digisexuality' – Neil McArthur and Dr. Markie. Brick Dollbanger does make the cut however, proudly representing male sex tech I guess. A much better list can be found at Immersive Porn, although it needs updating. Meanwhile, this site will unashamedly continue to fill the need for a sex tech blog that actually gives a voice to male sex tech.
Interest In Quest 2 Passthrough Porn Increases
There are currently 3 different threads on Quest 2 passthrough porn on the front page of the subreddit /oculusnsfw. I'm not going to lie – it is very clumsy and awkward to attempt to masturbate in passthrough mode watching VR porn, and of course, with the low grade passthrough on the Quest 2, it's not exactly very immersive. But the fact that it's generating so much interest despite this, does point to how big AR porn, or mixed reality porn, is going to be on forthcoming headsets such as the Quest Pro (Project Cambria) and the Apple VR/AR headset. VR porn site SexLikeReal have also announced that they are going to introduce a special 'passthrough' category for movies that are suited for, or have been formatted for, viewing in passthrough mode.
https://www.reddit.com/r/oculusnsfw/comments/vupwle/why_people_think_pass_through_vr_porn_is_amazing/
https://www.reddit.com/r/oculusnsfw/comments/vz1diy/how_exactly_do_you_perform_the_pass_through_trick/
https://www.reddit.com/r/oculusnsfw/comments/vxap3p/best_videos_that_support_pass_through/