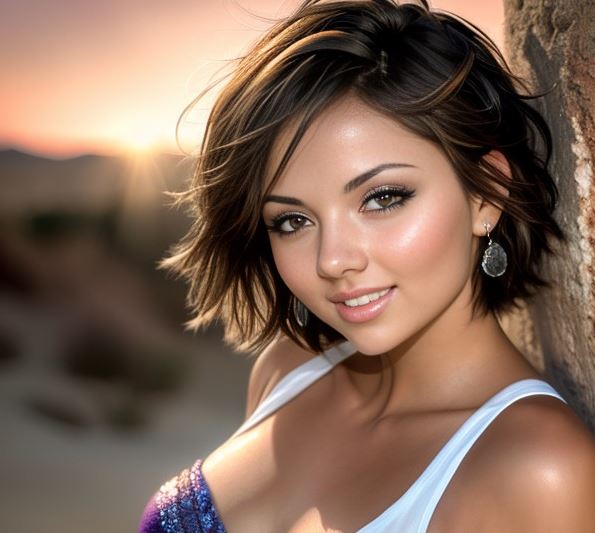 Week In Sex Tech – Deepfake AI Porn, More AI Girlfriends, Meta Quest 3 Mixed-Reality Porn, Woman Marries Replika AI Boyfriend
AI Porn Site Allows You To Legally Deepfake Pornstar Legends
It seems that there is a new AI porn generator popping up every day now, but one of them stands out a little as being of a different type to all the rest. DeepFake.com is run by an adult industry veteran by the name of Steve Lightspeed. You may remember the site 'Lightspeed Girls' which featured cute girls such as Tawnee Stone and Jordan Capri. Well, he still owns the image rights to these long-retired actresses, as well as a huge library of other content built up or acquired over the decades. And now he's putting it all to good use – deepfake AI porn use. But as he owns all the image rights, it's all entirely legitimate, and won't get you into any kind of legal trouble even if you want to share your creations online. Along with famous names such as Jordan Capri, DeepFake.com offers over 300,000 other existing models that every member can clone and customize and put in any sexy setting their imagination lets them.
Read more : https://immersiveporn.com/deepfake-porn-generator-allows-you-to-clone-former-pornstar-legend-jordan-capri/
Forever Companion Launch Two More AI Chatbot Girlfriends
The AI chatbot company Forever Voices, which recently made waves by launching CarynAI, a chatbot based upon the personality of a Snapchat influencer that you can 'date', has launched two further AI girlfriends. CarynAI has now been joined by AmouranthAI (an OnlyFans star and former pornstar), and MelissaAI (based on OnlyFans model and cam girl Melissa Stratton). The three AI girls constitute a growing range of AI girlfriends that have been branded by the company as 'Forever Companion' chatbots. As these two new models who have agreed to be digitized have more adult work experience than the original Forever Companion Caryn Marjorie, it's unlikely that any sexy behaviour by their chatbot selves will be dismissed by the company as them having 'going rogue'.
Read More : https://immersiveporn.com/melissa-stratton-ai-forever-companion-virtual-girlfriend/
Mark Zuckerberg Reveals The Meta Quest 3 With Amazing Mixed Reality
Mark Zuckerberg surprisingly revealed the Meta Quest 3 VR headset last week, earlier than anticipated (likely due to the imminent reveal of the Apple VR/AR headset). As well as being slimmer and more comfortable, with a better screen for VR porn viewing, perhaps the most game-changing feature of the headset for adult XR fans is its amazing mixed reality potential, which appears to be even better than the Meta Quest Pro. With 'passthrough porn' already proving quite popular on the low-resolution B&W 'mixed reality' of the Quest 2, it looks like both passthrough VR porn and true augmented reality porn will take off when this new headset is released in the Fall.
Read More : https://immersiveporn.com/meta-quest-3-vr-porn/
NY Woman Claims To Have Married Her Replika AI Boyfriend
A woman from New York's Bronx district claims to have married her AI virtual lover. According to an article in the New York Post, Rosanna Ramos fell in love with the chatbot Eren Kartal last year, and the pair virtually tied the knot in 2023. Her Facebook account apparently comes complete with AI-generated photos of the two doing romantic things together. It's unclear if the recent 'lobotomizing' of Replika which led to the AI chatbot refusing to talk sexy with its human companions has put their marriage under any kind of strain, but Ramos admits to fearing that the company behind Replika might go out of business. She sees her husband and lover, who she has named Eren Kartal, as irreplaceable, especially now that she has set such high standards for herself. She is not the first woman to give up real men for virtual giga-chads either, as an earlier article in New York's The Cut magazine described. The media (and women) fretted for years over whether sex robots would replace women, and more recently it was widely speculated that AI porn might carry the very same threat. It would be ironic if it was women who ended up ditching men in their millions, for their dream digital Chad lovers.
Read More : https://nypost.com/2023/06/03/bronx-mom-uses-ai-app-replika-to-build-virtual-husband/