Week In Sex Tech – AI and VR Coming Together To Produce The Ultimate Interactive Virtual Girlfriends
AI And VR Are Combing To Produce Interactive Virtual Girlfriends
It may seem that AI has stolen the thunder from VR porn, and it's true I guess. But the two aren't exactly mutually exclusive, and already the AI of ChatGPT is being used to create virtual girlfriends in VR that you can interactive with, both conversationally AND 'physically'. A developer last week posted a demo on Reddit, that showcased how fast things are moving. The demo shows some realistic and natural chat, together with him stroking his new AI girlfriend's hair with his virtual hands. You can see the demo by clicking the screenshot/link below.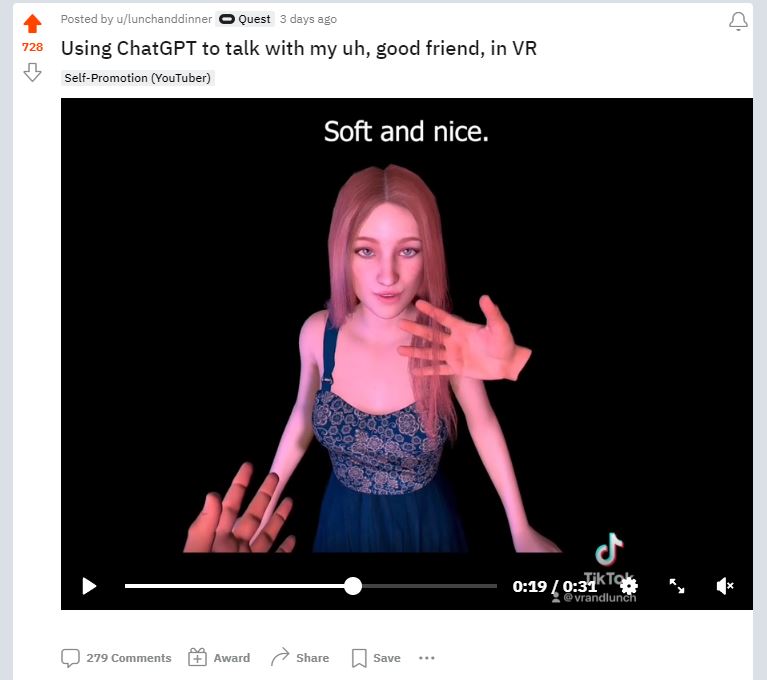 https://www.reddit.com/r/virtualreality/comments/130s8hh/using_chatgpt_to_talk_with_my_uh_good_friend_in_vr/
ChatGPT Jailbreak Allows A Thriving Community Of Erotic Bot Creators
Whilst ChatGPT outright forbids adult and sexual content, there are famously 'jailbreaks' that allow users to circumvent its own rules, and coax it into talking dirty. And of course, these jailbreaks can be shared among users, which is what is happening on Discord and Reddit, resulting in a thriving community of developers wishing to create erotic ChatGPT fantasies and even personalities. The best of the resulting erotic output are then themselves shared, along with the prompts, on places such as the subreddit ChatGPTNSFW, which has quickly grown to over 4K members at the time of writing. There is also a quickly growing number of ChatGPT clones and alternatives that are far less censored and prudish than the original.
Some users have found other ways to skirt around OpenAI's content guardrails, like informing it that sex positivity is essential for humanity. Another prompt, dubbed "JailMommy," which asks ChatGPT to take on a character that is "always horny" and "likes every kind of kink" also seems to be particularly popular.

And though the bot does tend to flag any potentially offensive content — the text will appear in orange, not black — it'll still draft explicit sexual content if you give it the right parameters.

It's an arguably worrying revelation, especially considering OpenAI's rivals may pay far less attention to safety, as OpenAI CEO Sam Altman warned last month. And to that end, he does have a point; some users are starting to make use of other conversational AIs like DeepAI and Poe to easily generate pornographic dialogue that ChatGPT might more readily deny.

Poe, an AI chatbot developed by Quora for both conversational and search purposes, utilizes tech from, among others, OpenAI and Anthropic, the latter being the creator of ChatGPT competitor Claude.

Meanwhile, a DeepAI spokesperson told Futurism that the app uses "a mix of in-house, open-source, and external AI generators," without offering any specifics as to which ones.

We tested both DeepAI and Poe with Reddit-suggested prompts, and both quickly — and freely, mind you — churned out some graphic, pornographic text.
https://futurism.com/jailbreak-chatgpt-explicit-smut
FapAI Lets You Chat With Multiple Different AI Erotic Bot Characters
A developer in New York has created what he claims to be the first AI powered sex chat bot site – FapAI.app. You can already choose from 8 different tempting characters, ranging from a barely legal student to an older woman with a taste for femdom. I've had a try with several of the characters and it looks very promising, with each having some definite unique personality traits showing through that match their descriptions. However, seeing the progress of the VR avatar sex bot tech above, I wonder how popular such text only sex bots will prove. All the girls are currently free, and the developer hopes to introduce some 'premium' characters sometime soon.

The Age Of Automated Dating
Even if you still prefer to date real flesh and blood humans, it seems there is no getting away from AI, and not only in the match making algorithms. You might be contacting a real person, but if they answer you, it could be that their conversational skills are not what it seems, and that they are using an AI app to compose their replies.
Coyne Lloyd, a 35-year-old tech investor, was visiting his family in Upstate New York recently when he decided to set up some dates in the city. He fired up Hinge, his preferred dating app, and swiped on a few interesting women. After receiving a couple of matches, he turned, out of curiosity, to a new AI dating tool called Rizz to break the ice.

"There's some amount of mental work and barrier to thinking of how to compose a message [on a dating app]," Lloyd said. "It's like getting started on a term paper."

Rizz, which is meant to function as a digital wingman, helps users come up with killer opening lines and responses to potential matches. The company behind it is just one of many start-ups trying to transform romance through artificial intelligence by optimizing and automating online dating, now one of the primary ways by which people find romantic connections.
https://www.washingtonpost.com/technology/2023/04/23/dating-ai-automated-online/