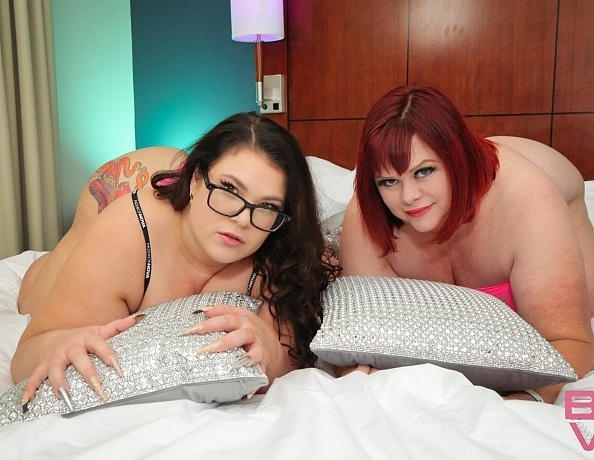 The Week In Sex Tech – New BBW VR Porn Site, Kickstarter Suspends 'Unstable Diffusion', MyARGirls Update, VirtualSex.world, AmoreVR Passthrough Porn
New BBW VR Porn Site Launches
BBW fans haven't been particularly well catered for in virtual reality up to now, but that changed recently with the launch of a site dedicated to big beautiful women. BevVR.io is a highly professional looking site, that comes with dozens of videos to enjoy at launch. There appear to be around 20 different models featured already. Can't say that I follow this particular adult niche, so I don't know how 'big' these girls are in the BBW porn world, but from my untrained eye, they certainly are both big and rather beautiful. Anyway, it's always positive to see another new VR porn site launched, and a niche site at that.
Kickstarter Suspends 'Unstable Diffusion' AI Porn Generator Project
The recent update of the AI generating software Stable Diffusion prevented the generation of pornographic images. In response, a group of developers launched a kickstarter project to build 'Unstable Diffusion' – a similar open source AI image generator that would allow porn creation. However, as might be predicted, SJWs got wind of this and promptly pressurized Kickstarter to suspend the campaign. This, despite the group behind it carefully wording their language to avoid mention that it was specifically for AI porn creation.
Shame on @Kickstarter for allowing the Unstable Diffusion crowdfund. You are enabling blatant theft and are funding a tool that can create abusive content such as nonconsensual pornography.

— Sarah Andersen (@SarahCAndersen) December 11, 2022
Read more : https://kotaku.com/kickstarter-ai-art-image-porn-unstable-diffusion-nsfw-1849921325
AR Porn Site MyARGirls Update
AR porn site MyARGirls.com got in contact with me recently to inform me that they had updated their site. Adding a 'Transporter' feature that allows you to pick from among their AR girls, and then position them into your room just the way you like it. They are also selling a package membership that includes a subscription to the site, a pair of VR/AR goggles, and a Fleshlight type masturbator with some lube.
Naughty America Launch 'VirtualSex.world'
Earlier last year, Naughty America relaunched their seemingly abandoned AR/VR project 'Strip Club' as 'RealGirlsNow'. However, it only contained their volumetric scanned models. Now they have launched a seperate site – VirtualSex.world – that features their 3D animated characters, with quite a number of new ones added. As with RealGirlsNow, the girls (and a few male animations) can be viewed either in a nightclub type setting, or in AR passthrough in your own home. The animations are decently drawn, and the passthrough works great. Even on the Quest 2, there is no fiddling needed with your position next to the guardian boundary, you are in passthrough mode as soon as you select that option.
VR Porn Studio AmoreVR Is Filming Passthrough Porn Videos
AmoreVR has become the second studio after SLR Originals to film VR porn videos in front of a green screen, intended for viewing in passthrough mode on either the Meta Quest 2 or the Meta Quest Pro. The studio, which had been releasing solo girl VR masturbation videos for several months, has already released three passthrough videos. They, like the SLR Original videos, are available with a membership of SexLikeReal. Judging from the number of likes the videos are getting, passthrough porn is becoming rather popular. This is despite the relatively small number of Meta Quest Pro headsets sold, and the fact that pasthrough on the Quest 2 is blurry and in B&W. It certainly indicates that there is a huge potential for AR or mixed reality porn that brings the action into your home environment.